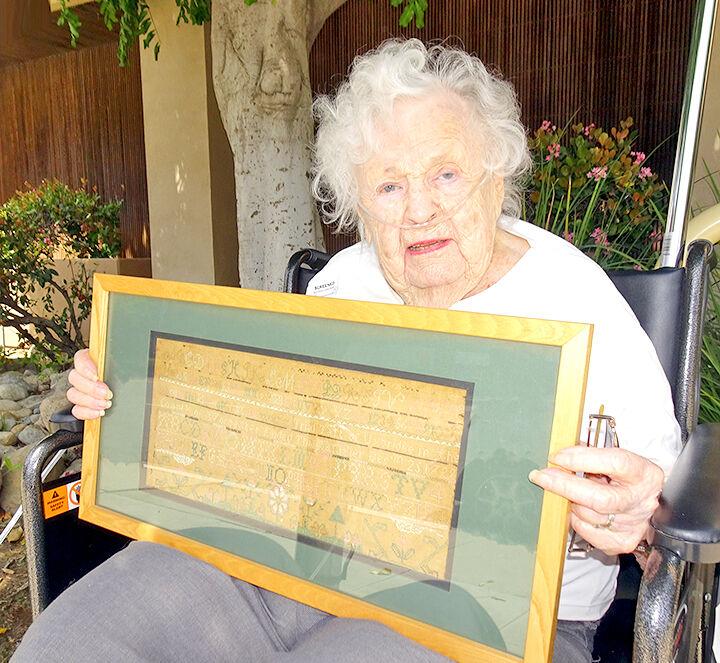 The Museum of Redlands/A.K. Smiley Public Library Heritage Room recently received a framed cross-stitch sampler dated 1799, donated by Theresa Law of Oak Glen.
Law is 103, with a keen memory of her origins in South Paris, Maine, her first arrival in Redlands in 1942 for her husband's battle training at the General Patton desert training grounds, her later return to Redlands after his death in France, and settling in Oak Glen to raise apples and bake as many as 600 pies a day for their coffee shop on tourist weekends.
The Museum of Redlands seeks to share the history of the Inland Empire and Redlands' place in Southern California. Thus, memorabilia of the prominent Law orchards and apple pie restaurant would be important. But the sampler just received could also be used to tell of Law's longtime connection with Redlands. She is a charter member (1981) of the Citrus Belt Quilters organization, interested in many kinds of fine-sewing workmanship. And she is a member of the local Arrowhead Chapter of the Daughters of the American Revolution, preserving many items from the late 18th century representing the political formation of the United States.
 In giving the sampler, Law explained that the work was "made by Trial Taft, great-great-great,-great-grandmother Taft (and given) to John S. Colby, my first husband, killed in action Sept. 1, 1944."
The 222-year-old sampler of silk thread on homespun linen, in perfect condition, features alphabets and numbers hand-stitched in five fonts, with the lettering "Trial Taft of Oxbridge in the County of Worcester Ended This Sampler Dec. 25, 1799."
A precise cross-stitch floral design borders the bottom.
Theresa Law, who until six months ago (before being shut down by the COVID pandemic and her own hospitalization with the virus), could be found each day this past decade sewing decorative aprons for tourists in the back of her Oak Glen quilt shop and later at Mom's Country Orchard Store at 38695 Oak Glen Road, owned by daughter Allison Mathisen.
Retaining her Maine accent all these years, Law loves to precisely recount her family history. Of her future first husband, she said, "His father was a Congregational minister, and (John) had sat behind me in the fourth grade."
John Seagrave Colby went on to graduate from the University of Maine in Orono while Theresa attended Farmington State College two years. She took a summer job with the phone company who didn't want her to quit and go back to school because she spoke French, and there were frequent switchboard calls back and forth from French-speaking Canada and the bean cannery in Maine.
John Colby received his degree in 1941. At that time a man could volunteer for the draft with the promise of a two-year commitment.
"That was September 1941," Theresa said. "And Pearl Harbor in December changed everything. That two years no longer held true, so right after we were married (in Arkansas April 30, 1942),  he put in for OCS (Officer Candidate School) in Fort Knox."
She agrees this was a busy time of keeping up with her husband's assignments because the wives knew their husbands were going to be sent overseas.
 The officers' wives had pooled their gas coupons to follow their husbands to Nashville where the women rented rooms to live together during the week. Two of the four couples then got use of the two-bedroom house when the men came home on weekends, and two couples had to rent additional hotel rooms for those weekends.
Law said that when her husband was assigned to the Desert Training Center where Gen. Patton trained troops near what is now Chiriaco Summit in the Mojave Desert, they had to take the train to Redlands. Although regular troops could get off the train at the Rice station in the desert, civilians had to go on to Redlands as the nearest stopping spot.
Through a Maine relative's acquaintance, a connection was made with Redlands Superintendent of Schools Henry Clement (Clement Middle School) whose family helped Law find a place to live in an apartment of a two-story house at 740 W. Palm Ave.
She remembers, "The apartment had a kitchen, living room, bedroom and bath, and we rented it five months from October to April. John could come to Redlands on weekends."
"This was not easy but the wives wanted to stay with the husbands, and we made the most with time we had," she said.
Colby was only in France three weeks when he was killed in action and buried there in the British-American St. James Cemetery, just three months after D-Day.