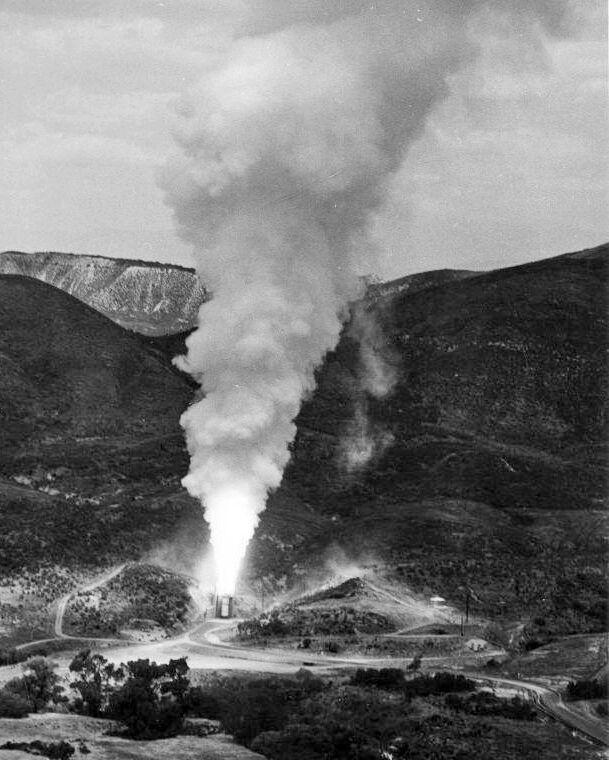 In last week's article about the history of Mentone, the author cited a local tongue-in-cheek motto about this quaint little town: "Mentone: Known for absolutely nothing."
In fact, Mentone has such a rich history that there wasn't room to tell it all in last week's Redlands Community News as Mentone celebrated its 135th anniversary. Since the town has never been incorporated, the anniversary date of June 9 apparently stems from that day in 1887 when William P. McIntosh laid out the first map of the town and began selling lots.
The space race
Nope. It wasn't Houston: It was Grand Central Rocket Co. right here in Mentone at the north end of Ruby (Crafton Avenue.)
Every two hours Vanguard I, the second successful satellite ever launched by the United States, continues to orbit the earth, thanks to the Grand Central Rocket Co. of Mentone. To date, the grapefruit-sized satellite has made nearly 1 million 134-minute orbits. Vanguard II, launched in 1959, also continues to orbit with its Mentone-prepared third-stage. It sent the first weather observations from space. Although both Vanguards no longer transmit, they continue to circle the earth as an everlasting salute to Mentone's legacy.
In 1952, Charles E. Bartley, a leader in American space technology, started his own company named Grand Central Rocket Co. Because he needed a remote site for testing and experimentation, he settled on the Santa Ana River area northeast of Redlands. Some of the buildings are at the northeast side of Crafton Avenue where it dead-ends.
They still exist, now part of a multi-use industrial site. After opening the plant in 1954, Bartley employed hundreds of people who developed solid-state rocket fuel and engines.
On Oct. 4, 1957, Russia launched the first satellite, Sputnik, which severely wounded American pride for not being first in space. A Vanguard was hurriedly set up at Cape Canaveral, Florida (later Cape Kennedy) on Dec. 6, but it blew up on the pad.
Grand Central had provided the second- and third- stage rockets, but not the first-stage booster that exploded. America's first successful satellite, Explorer I, launched on January 31, 1958, using Grand Central rocket fuel to power its second-, third- and fourth-stage engines.
In 1961, Bartley sold the company to Lockheed Propulsion. The Mentone company was in the spotlight again when it played a role in John Glenn's historic flight as the first American to orbit the Earth. The company built the escape rocket attached to the top of Glenn's Friendship 7.
It also played a major role in the "man-on-the-moon" program. Atop every Apollo moon rocket as it launched from Cape Kennedy, is a label proclaiming "Made in Redlands, California." Neighboring Redlands that got the credit, but Mentone is where it happened.
In 1975, Lockheed closed the Mentone plant, and then spent millions in cleanup when groundwater under the site was discovered to be contaminated with various solvents used in the aerospace industry. Just recently the area has been deemed safe enough to open to the public.
Hero saves Mentone
In the late mid- to late 1890s Mentone was in a water crisis. In 1893, Mill Creek water was diverted to Redlands when Mill Creek #1 Hydroelectric plant began operating. On top of that, the area was suffering a severe drought. The orange groves were drying up, and people were taking their losses and leaving Mentone.
To the rescue came William John Tench, who had moved to Mentone in 1888 and was the town's first real estate agent, hired by the Santa Fe Railroad. His orange grove was drying up, but he was not about to give up.
He wrote in his publication, "Well Near the Wayside," that in September 1898 he began digging "a well through underlying boulders to an ancient riverbed. It was an unbelievable task to anyone who had ever thrust a spade into Mentone's rock-strewn surface. And though it flabbergasted people beyond words, it was a ray of hope to those who wanted to stay on."
Tench's only help in digging the well was a Chinese laborer named Ah Yee, and his 10-year-old son. It took two years, and finally after digging down almost 200 feet and blasting away boulders sometimes as big as a horse, Tench struck a gusher on April 11, 1900. Named "Old Faithful," the well took care of many of Mentone's water needs, and Tench formed his own private water company.
In 1903, Tench built a reservoir. His system sufficed until the Bear Valley Water Co. supplied water for the whole valley. His wells, reservoir and water system were eventually sold to the city of Redlands which today supplies water to the Mentone area.
Portuguese Club
The Mentone area is home to a community of Portuguese people who came mainly from the Island of Santa Maria, Azores.
The Portuguese American Club at 1133 Crafton Ave. was established in 1923. The club holds an annual festival honoring the sainted Queen Isable. This year, the community celebrated its 99th Festa de Espirito Santo on June 4 and 5.
Mentone depot
The beautiful Victorian-style Mentone train station was at the eastern top of the upper loop of the famous Kite-Shaped Track of the Santa Fe Railroad. Built in 1892, the depot served the community until 1942 when it was torn down and replaced with a smaller station.
Universal Rundle was a major employer.
In the 1940s Universal Rundle built a large ceramics plant in Mentone that employed many people from the Mentone area. Universal Rundle manufactured toilets and was acquired by Crane Fixtures in the 1980s. Crane merged into American Standard in 2008.
Mr. and Mrs. Otto Wirth opened the Old-Fashioned Mentone Inn in an old hotel on Mentone Boul…
The area north of Mill Creek is a suburb of Mentone known as Greenspot. From Mentone Bouleva…