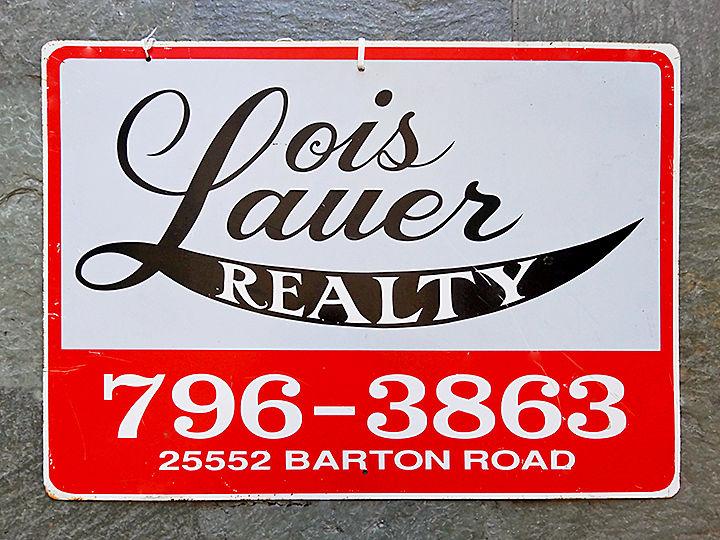 One of the items in the A.K. Smiley Public Library Heritage Room collection awaiting display opportunity following the renovation and opening of the Museum of Redlands is a Lois Lauer Realty sign — from the days before the company affiliated with Century 21 in 1998.
Lauer, who died in 2013, moved to Redlands in 1946 after the war and worked in her husband James' business until it was sold in 1963. She then began her real estate career and worked for two other companies before starting Lois Lauer Realty in 1976.
Lauer was named Realtor of the Year in 1998 and Redlands Woman of the Year in 1999. The current Century 21 Lois Lauer Realty presently has offices in Redlands and Yucaipa, with 20 employees and more than 125 licensed real estate agents.
Family members working with the company are her daughter and son-in-law Ann and Vaughn Bryan and their daughter Kristin Pierce. The Redlands office is in the top 20 in the Century 21 system of more than 5,000 offices.
The Library Heritage Room staff collecting and storing items coming in for the museum, encourages Redlanders to look out for and save current items which help tell the story of Redlands, such as this sign.
For information on donating Redlands-area-related historical items, contact the A.K. Smiley Public Library Heritage Room at (909) 798-7632. The Museum of Redlands is conducting a capital campaign drive for renovating its building at 700 Brookside Ave. For more information, visit theMOR.org.