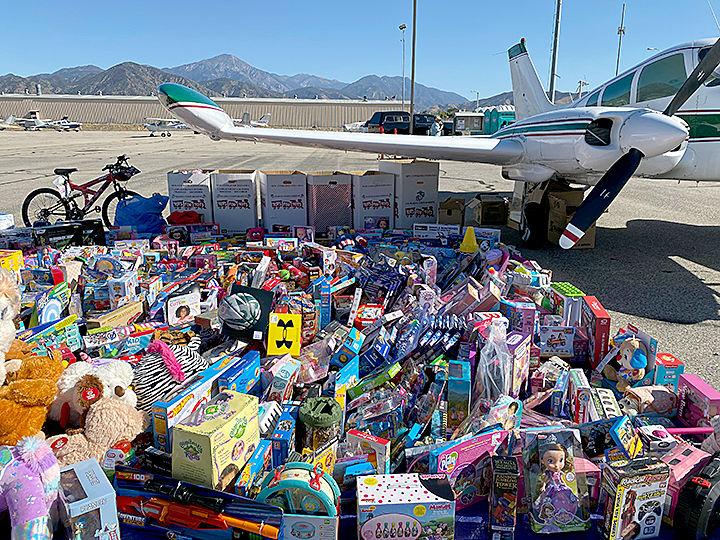 The holiday season is just around the corner and Redlands is kicking the giving season into high gear.
While many will be spending time enjoying delicious food with friends and family in the coming weeks, some will not have the same opportunity.  
That is where organizations YouthHope, Family Service Association and the Redlands Municipal Airport Association come in.
November is National Homeless Youth Awareness Month and YouthHope is doing everything it can to spread awareness and help those in need.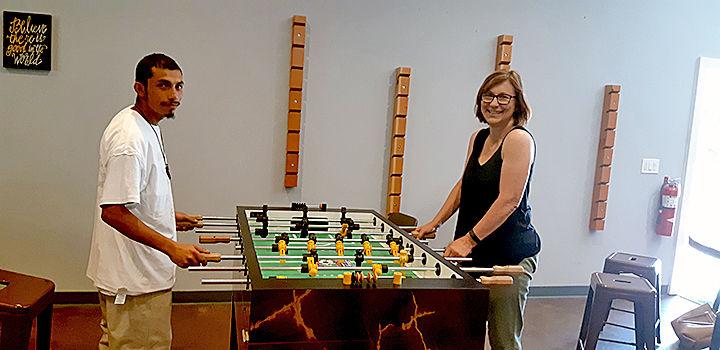 In 2009, nonprofit foundation YouthHope was created to build confidence and promote self-sufficiency for homeless, runaway and at-risk youth from ages 14 to 24 as described on its website.
According to the foundation, it provides trust, hope, support and education in a support system and caring environment. YouthHope provides insight on the staggering statistics of youth homelessness.
Twenty-six percent of YouthHope attendees were homeless, 25 percent were abused as young children, 15 percent were in foster care, 34 percent have parents with drug or alcohol problems and 89 percent were classified as low income.
What is YouthHope doing to combat this?
For the 2017-18 school year the foundation handed out 416 bus passes, 350 hours were spent on GED (General Education Development) tutoring, 49 youth were helped with creating résumés, 83 attendees filled out job applications, 46 attendees earned their food handlers certificates, 35 attendees received tutoring and 10 participated in GED preparation.
YouthHope Director of Grants Monica Saunders, outlined the foundation has on its plate for Thanksgiving.
"Several local businesses are helping us. Miguel's Jr. is doing a fundraiser on Nov. 21 with 20 percent of the proceeds donated to YouthHope," said Saunders. "International Day Spa is donating 20 percent of their Orange Line to YouthHope all month and the Redlands Turkey Trot, happening on Thanksgiving morning, is donating part of the proceeds to YouthHope."
Saunders highlighted popular Redlands businesses she is teaming up with to maximize excitement this year.
"Toyota of Redlands is having a Hope Truck event where they are trying to get enough donations for YouthHope to fill a Tundra during November. They are collecting all sorts of donations like granola bars, $5 gift cards to local fast food restaurants and hygiene items," she said.
"We are so thankful for all of these businesses that help us!"
YouthHope will serve a Thanksgiving lunch from noon to 2 p.m. for ages 14 to 24 who have nowhere to go for the holiday.
 "This usually isn't the happiest of gatherings because the youth who come literally have no where else to go.
"They want to be with family and friends, but for whatever reason they aren't able to be with them," said Saunders.
"We are there to be a shoulder to cry on, to sit with them and help give them hope."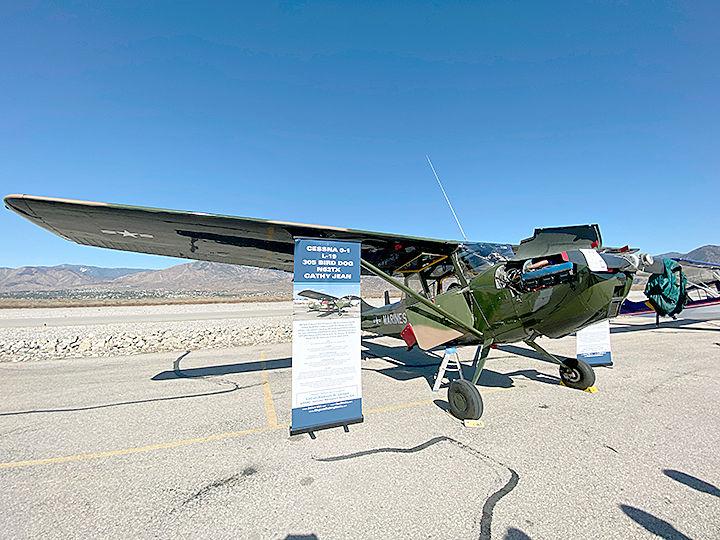 The elves
Another organization rallying the troops for the holiday season is the Redlands Municipal Airport Association.  
On Saturday, Nov. 16, the association held Stuff a Plane, an event gathering toys for Toys for Tots.  
The airport has been holding the event for five years in partner with Redlands organizations and the U.S. Marines from Twentynine Palms.  
Airport Association Secretary Cindy Gablin said the event is a win-win.
 "It's an opportunity to do something good for the community and for people to come to the airport and appreciate what we have in the city."
 The event draws a crowd of 400 to 500 people.
 "We collected 5,000 toys last year," said airport association president Ted Gablin. "We are the elves for Toys for Tots."  
Some of the donors who contribute to the event are Sysco, Redlands Police Department, American Legion, Chick-Fil-a and LifeStream Blood Drives.
This year for guests there was a military and vintage aircraft display and pet adoption opportunity.  
Marshall Peterson says this is his second year attending the event.  
"I came with my daughter last year and just absolutely loved it. With all the horrible things happening that you see on the news it's nice to be able to come to something like this and celebrate charity," he said.  
Redlands resident Derek Frill said the aircraft displays amazed his 10-year-old son.
 "You never really get to see planes up close, especially ones like these so it is a neat opportunity for kids who are interested in aircraft."  
One of the most impressive aircrafts on display was a Cessna 0-1 L-19 305 Bird Dog.  
The plane was flown in 1949 as a replacement for smaller World War II fabric-covered aircraft with the same artillery.
 The model was retired from the U.S. Army National Guard use in 1974, after being used in the Army, Air Force, Marines, Royal Thai Air Force and 13 other allied nations.
 Ted Gablin said that after the event the Marines fly the toys to the Twentynine Palms reserve unit and then they are distributed through San Bernardino and Riverside counties.
Some of the toys that were donated included balls, Barbies, stuffed animals and Hot Wheels.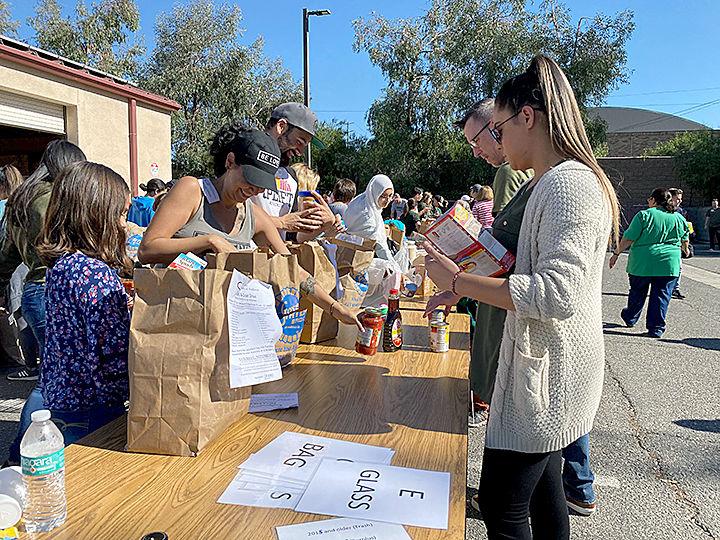 Family Service Association  
The Family Service Association of Redlands starts it's call to the community through their November to December year-end campaign.   
The Family Service has been serving the Redlands community for 120 years. It is designed as a safety net program to help with basic needs such as food, housing and clothing for the homeless or at risk, according to its website.  
One of Family Service's major goals is to assist in the process of securing stable housing for families that meet certain income guidelines and to help establish self-sufficiency.
One of the Family Service's biggest events is its Fall Food Drive.  
On Saturday, Nov. 16, Family Service partnered with the Church of Jesus Christ of Latter-day Saints to collect 12,000 pounds of food.  
Hundreds of volunteers from the Redlands community showed up to give their help as well as teachers and students from Crafton Hills Community College.
 Pickup trucks were being offloaded with bags and bags of nonperishable items. There was something from nearly every aisle of a grocery store.  
Maple syrup, tomato sauce, cake mixes, canned tuna and chicken, beans, soups, chips, cereal and pasta were just some of the many items donated by the masses.
There was also a section for donated clothing as the colder months draw near.  
 Family Service Executive Director Kyra Stewart said the food drive is only one of the many events put on to help those in need.
 "We held a Thanksgiving basket distribution on Nov. 19 and an adopt-a-family program," she said. "The Redlands Community Hospital adopts 30 to 40 families every year."
 The baskets are a way to provide a traditional holiday meal for families. They include:  
• 1.5 lb. bag flour
• 1.5 lb. bag sugar
• 1 box dry milk
• 1 bottle cooking oil
• 1 box stuffing
• 1 can pumpkin
• 1 can yams
• 1 can cranberries
• 1-2 cans broth
• 1 Gravy mix or canned gravy
• 1-2 cans miscellaneous vegetables
• 1 bag potatoes
• 1 lb. margarine
• 1 can milk
• 2 onions
• Apples and oranges
• Celery
• Jell-O, cake mix, or dessert
• 1 roasting pan
One Redlands East Valley High School volunteer said the drive made her remember how thankful she is.
"It just makes you think how lucky you are to be in this position to help people. Not everyone has food or family and friends during the holidays."
What to donate
 Interested in donating food for the holiday season? These are the Thanksgiving and Christmas items needed. Donations can be brought to the Family Service Association at 612 Lawton St.  
$10 gift card to Stater Bros. or any extra special holiday items that make the holiday more festive (candles, dishtowels, treats, decorations).
 This list provides the basic meal for most families. Family Service then tries to add a few items when available to extend the food baskets. Additional items include, soup, tuna, beans, rice, juice, jelly, pasta, cereal, canned fruit, canned, vegetables, boxed side dishes, peanut butter.
Founded by Alfred Smiley during a public meeting called by the Minister's Association. Smile…