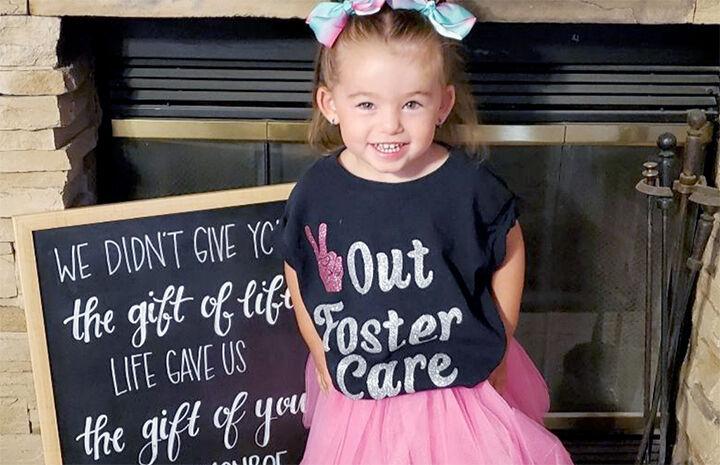 On a hot day in July 2018, San Bernardino County Sheriff's Deputy Mike Richardson and his partner were patrolling a known gang-dominated area in Rancho Cucamonga to gather evidence for a recent "shots-fired" call. The deputies came upon a motorhome to ask the residents if they knew anything about the reported shooting.
This is when Deputy Richardson made contact with a man named Drake Petronzi, nervously holding his baby wrapped in a wet towel. Concerned about the appearance of the baby, Deputy Richardson asked Petronzi how old his child was. After confusing the age of the infant multiple times, stating the baby was in the range of four to six months, Deputy Richardson knew something was wrong.
The baby did not look her true age.
"I was looking at the baby, and a baby that's four months old should not look like that," said Deputy Richardson. "I have a young daughter, so I know what a healthy 6-month-old baby should look like."
Upon further investigation, Deputy Richardson learned that the baby's name was Payge. He also recognized that the living conditions of the motor home were less than suitable for a young child. There was no electricity or running water, there were packages of unopened baby food on the ground, a gun on the counter, a urine-soaked car seat that appeared to be where the child slept and a potent stench of rotting food and other "bad things," Deputy Richardson recalled.
"The hairs on the back of my neck stood up," he said.
Deputy Richardson and his partner informed their sergeant of the situation, who recommended that they call American Medical Response (AMR) medics to check the health of the child. When AMR arrived on the scene, they removed the wet towel to find an extremely malnourished child with a severe yeast infection that covered her tiny body. Due to Payge's severe physical symptoms, it was apparent she needed immediate medical care. The medics placed her in the ambulance and rushed her to a local emergency room.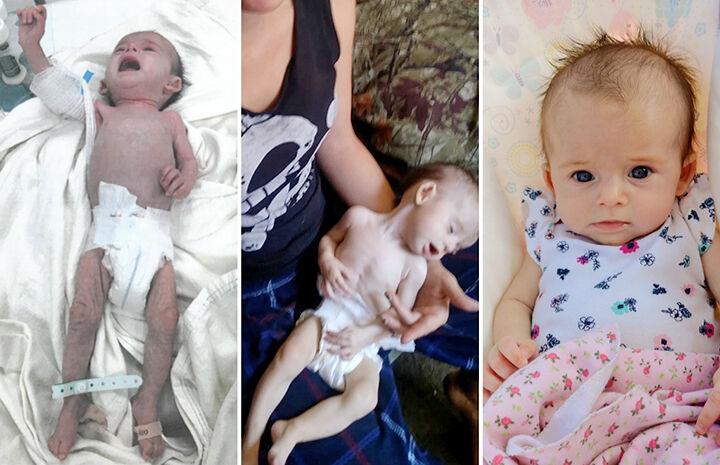 Children's Hospital
Detectives working in the San Bernardino County Sheriff's Department's Crimes Against Children Detail alerted forensic pediatrician Dr. Melissa Siccama at Loma Linda University Children's Hospital about the severity of Payge's condition. An order was given to have Payge transported to the emergency department at Loma Linda University Children's Hospital. This would allow Payge to come under the care of Dr. Siccama.
"She had a significant yeast infection on her skin under her neck, in her diaper area and legs. She was very cachectic, meaning she had no subcutaneous fat on her body. You could see her ribs, her sternum — you could see her bones," Dr. Siccama continued.
"She was significantly dehydrated. She had electrolyte abnormalities that needed to be corrected. When she did start eating, she had what we call refeeding syndrome, which is a syndrome that babies, children, even adults can get if they are severely malnourished and then start to eat again. They get electrolyte abnormalities that need to be watched closely."
Baby Payge was going to need a lot of care, and Dr. Siccama was determined to see her survive. In fact, Dr. Siccama said that if Deputy Richardson and his partner did not alert AMR, Payge may have died within four days of her rescue.
"Her case was one of the worst cases that I have ever seen," said Dr. Siccama.
After days in the hospital, Baby Payge began to put on significant weight. Though still requiring attentive care, doctors were hopeful that she would make a miraculous recovery.
Plans for Payge
As Payge was recovering, her case was forwarded to the San Bernardino County Department of Children and Family Services, which is normal anytime a child suffers unnecessarily at the hands of a parent or caregiver.
After reviewing the reports from everyone involved, conducting interviews and completing their own investigations, it was decided that Payge would be safer and healthier with a new family. Senior Social Worker Jessica Shears completed the necessary documentation which she submitted to the court, with the department's recommendations.
Justice provided
"I was assigned to prosecute the case of People v. Drake Petronzi when it first came to light in 2018," said Deputy District Attorney Morrissa Cardoza. "I felt bonded to this baby since I first saw her in photographs."
Cardoza then explained the facts of the case and described just how shocking the living conditions were for Payge before she was rescued.
It became apparent in the court proceedings and through medical examination that Payge had not been fed properly. Though her parents were facing financially difficult times, they were receiving support from the state and had plenty of formula to feed Payge … they just failed to do so. The packages of food remained unopened and unused despite the child's desperate need for nutrients.
In court, Payge's birth mother admitted that sometimes, Petronzi would… "put alcohol in [Payge's] bottle to get her to sleep better and would blow marijuana smoke in her face … because she was constantly crying," said Cardoza. She also explained that the pain the child was experiencing was a result of not being fed properly.
Though the facts of this case are gruesome and hard to read, it makes the efforts of the agencies involved that much more admirable.
A house to a home
"We were honestly not going to take in any more kids, and I got the call for her…but she was just so small," said Dawn, a loving mom who has served with the foster care system for over three years. "When I saw her for the first time, she was 6 pounds at 3 months old."
As Payge cuddles in Dawn's lap, the now 2-year-old girl looks up to her soon-to-be mother with smiling eyes as she watches her mom recount how far Payge has come.
"We didn't want to let her go after that," said Dawn. As soon as Dawn and her family took Payge in, they knew this little one found her forever home and began the process of adopting Payge.
Lead Social Worker Sonja Flowers, worked hard to ensure that the longterm plans set for Payge by Shears were met. Flowers ensured that the foster home Payge was placed in was safe and a good environment for a child to thrive. It became apparent to Flowers that Payge was in a home that would love her and care for her indefinitely.
"It was a long process," Dawn recounts. "But she's here to stay and so are we." Advocacy is needed to shorten the waiting time for adoption finalizations.
Though COVID-19 presents challenges with getting court dates and making adoptions final, Payge's new family was determined to see it through.
"They sent me pictures of the adoption finalization … and that just made my day," said a misty-eyed Sonja Flowers. "It was great to see her be in a forever home with people who love her, protect her, and look out for her every need."
So while 2020 may not be the best year ever, it was one where an innocent life was changed forever. Payge is now a feisty, joyful and giggly 2-year-old, well on her way to making the world her own. The sheriff deputies, social workers, deputy district attorneys and a loving foster-turned-adoptive family fought for Payge at her most vulnerable. Payge now stands at the threshold of a life with profound possibilities, all because some deputies were faithfully doing their job.
Grace Underwood is a member of the San Bernardino County district attorney's public affairs office. With a degree in journalism from the University of Southern California, she shares the same vision of transparency, community engagement, and seeking justice for victims and witnesses through the criminal justice system.