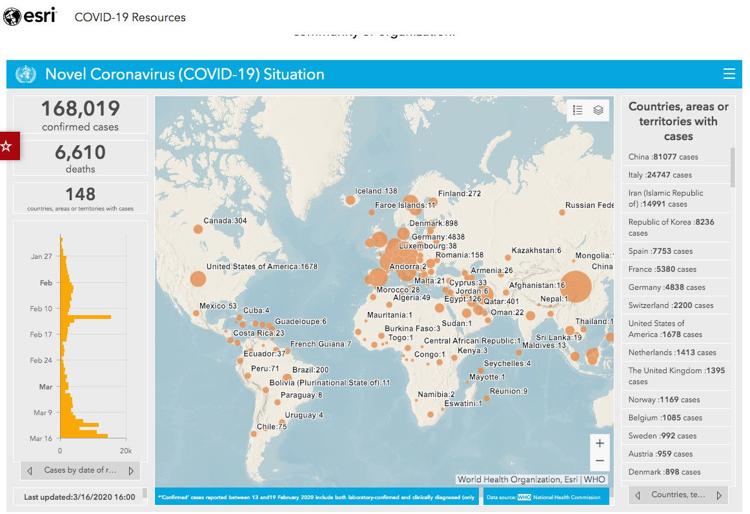 On Wednesday, March 18, a world map showed big and small orange dots throughout, with the largest circles in countries like China, Italy, Iran and Republic of Korea. Each of them represented thousands of confirmed novel coronavirus cases, better known as COVID-19.
The map at esri.com is being constantly updated by Esri, a Redlands-based international supplier of geographic information systems software, web GIS and geodatabase management applications.
The information comes from renowned health authorities from all over the world, including the World Health Organization and John Hopkins University, among others, Jo Ann Pruchniewski, spokeswoman for Esri told the Redlands Community News.
Pruchniewski assured residents that Esri is "fully prepared to, and is maintaining operations, during the COVID-19 pandemic.  
"We have not experienced any significant business impact or interruption," said Pruchniewski. "We have a business continuity plan in place across all business units globally, including technology support and customer service, to ensure resilience. We will continue to fully serve our users, partners, and employees without disruption."
On its website, Esri details five steps where organizations and communities can understand the pandemic.
Step one: Map the cases, including confirmed and active cases, fatalities and recovery cases to identify where COVID-19 infections exist and have occurred.  
Step two: Map the spread, time-enabled maps can reveal how infections spread over time and where authorities may want to target interventions.  
Step three: Map vulnerable populations. COVID-19 disproportionately impacts certain demographics such as the elderly and those with underlying conditions. Mapping social vulnerability, age and other factors helps authorities monitor the most at-risk groups and regions.
Step four: Map your capacity. Map facilities, employees or citizens, medical resources, equipment, goods and services to understand and respond to current and potential impacts of COVID-19.
Step five: Communicate with maps. By using interactive web maps, dashboards apps, and story maps to help rapidly communicate the solution, communities and organizations could protect the residents better.
Esri is also updating a map where people could see the impacts at airports from all over the world and a map that alerts of travel advisory levels.