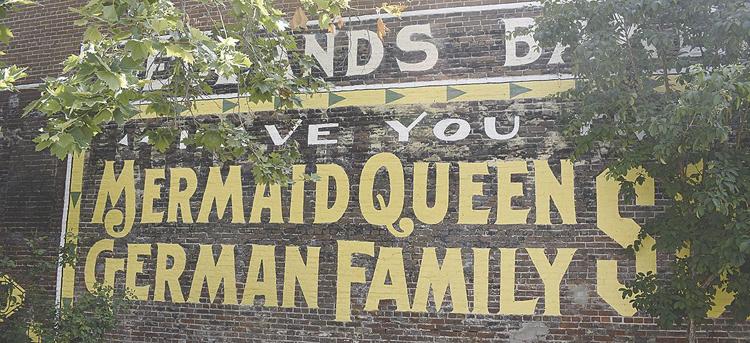 A three-story brick building was built on this corner in 1903, known as the Atwood Block.
The Redlands Post Office occupied the first floor until 1918, according to "Redlands: Our Town," a book published in 1987 by Frank E. Brown, former editor of the Redlands Daily Facts.
It was later occupied by furniture stores. It was torn down in 1972, exposing signs that had been hidden for decades for "Western Star Soap" and "Mermaid Queen German Family Soap" on a two-story structure built between 1894 and 1899.
Slilger Music, occupants of the building in 1972, wanted to have the wall painted.
"But they ran into a buzz saw," Moore wrote. "Customers had strong but divided opinions. One school insisted that the signs were ugly; another insisted that they were not only quaint but historic gems."
In an informal poll on secret ballots found respondents split 50-50.
The century-old advertisements were restored in 2015 by muralist Larry Dierdorff, a project funded by the Redlands Noon Rotary Club.
The city agreed to maintain the site as a park and discussed the project with P.O.D., an Orange County landscaping company that was working on the master plan for Prospect Park.
The city didn't want the added cost of watering and mowing a lawn and agreed to have it paved under a pavilion. Dwayne Blossom of P.O.D designed and built the pavilion, according to Moore.
It was named Central Park until 1983, when Edwin R. Hales died. Hales was a native of Redlands and served for 36 years on the Planning Commission, including 33 years as chairman.
"There was a spontaneous and quick reaction: rename Central Park in his honor," Moore wrote. "Opinion was so unanimous that the council scarcely needed to formalize the name change."
Ed Hales Park
• 101 E. State St., at the corner and State and Fifth streets.
• A 0.7-acre downtown park with a pavilion and picnic tables.