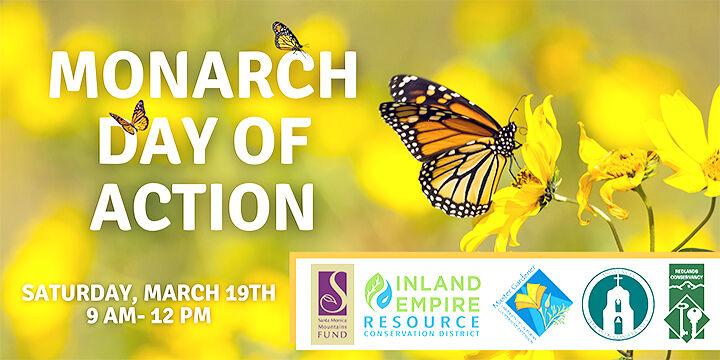 Once upon a time, beautiful black and orange Western monarch butterflies fluttered through Redlands neighborhoods en masse, bumping into car windshields and grills.
Each year, they migrate south to California coastal towns in November and head back north and to other places in the following March. In 2021, the official count of butterflies making their annual rounds between Pacific Northwest and California amounted to less than 2,000. The normal migration numbers were upward of 200,000. At Pacific Grove, known as "Butterfly Town, USA," not one Western monarch showed up. What caused the catastrophic decline?
Experts blame the decline on climate change, habitat destruction and lack of food due to drought.
At Redlands Conservancy's historic Asistencia, General Manager Heather Ross has scheduled the Monarch Day of Action for Saturday, March 19, to involve up to 75 volunteers to help plant milkweed on the Barton Road site. Narrowleaf milkweed is the main source of the butterfly's food. More butterfly food means more places for the migrating butterfly to gain sustenance so more will show up for the migration.
Between 9 a.m. and noon, work will consist of planting live native plants, grown from Inland Empire Resource Conservation District's nursery, as well as maintaining the established California native gardens. Participants will receive information about why native and pollinator plants are important to our ecosystem.
Up to 75 volunteers, ages 5 and older, are asked to register for the free event at https://monarch-day-of-action-at-the-asistencia.eventbrite.com, bring water, sunscreen, a sun hat, gloves and garden tools. Closed-toe shoes, long pants and long-sleeve shirts are recommended, and all volunteers must be prepared to comply with all current COVID-19 safety guidelines.
The Monarch Day of Action is part of the series of events coordinated by the Santa Monica Mountain Fund (SaMo Fund), which, along with Inland Empire Resource Conservation District, is underwriting activities all around Southern California. In addition to the March 19 event, SaMo Fund is sponsoring the online Milkweed Conference on Saturday, March 12.
The goal for the March 19 Monarch Day of Action at Asistencia is to install pollinator plants, remove invasive plants and hand out milkweed seeds. SaMo Fund is offering 100 free packs of milkweed seed, locally collected in the Santa Monica Mountains, and containing roughly 50 seeds, which is enough to start a patch of about 10 milkweed plants.
Master Gardeners of San Bernardino County will be providing more information on the importance of butterflies and pollinators as well as assisting in planting best practices.
Monarch Day of Action
What: Planting milkweed to attract Western monarch butterflies.
Where: The Asistencia, 26930 Barton Road, Redlands.
When: 9 a.m. to noon Saturday, March 19.
To register: Visit monarch-day-of-action-at-the-asistencia.eventbrite.com. Up to 75 volunteers are welcome.