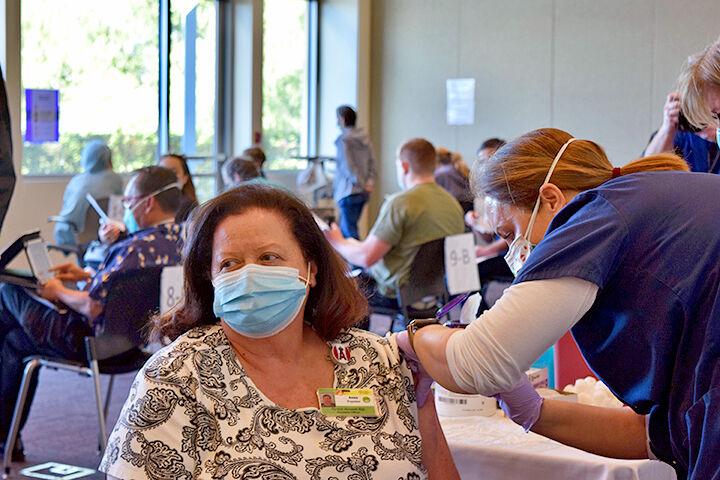 San Bernardino County has updated its vaccine recommendation for COVID-19 vaccine distribution to switch from four phases to only two.
The new guidelines were announced by Gov. Gavin Newsom on Monday, Dec. 28, and are expected to be finalized by the California Department of Public Health in the coming weeks.
If the new phased approach is approved, there will be a Phase 1A, 1B and 1C with different tiers in each.
Phase 1A features three tiers, giving the vaccine to health-care personnel and long-term care facility residents.
Vaccinations in Phase 1A's Tier 1 began on Dec. 16 and included acute care, psychiatric and correctional facility hospitals, paramedics and dialysis centers.
Tier 2 of Phase 1A includes home health care, community health workers, public health field staff, primary care and urgent care clinics. Tier 3 in Phase 1A includes specialty clinics, laboratory workers, dental clinics and pharmacy staff.
Phase 1B has two tiers. Tier 1 includes people ages 75 and over, teachers, childcare workers, fire and police and food and agriculture workers.
Tier 2 in Phase 1B includes people ages 65 and over with underlying conditions, public transport and postal workers, industrial, commercial and residential sectors, critical manufacturing, incarcerated individuals and the homeless.
Phase 1C, which is still under consideration, includes all other essential workers who were not in a previous phase, such as people ages 16 to 64 with underlying conditions, and workers in water and waste, defense, chemical, communication, financial services, government operations and community service providers.
Identifying Phase 1C recipients is not expected to be finalized for several weeks, according to the county.
Phase 2 includes all people aged 16 years or older who were not in Phase 1.
San Bernardino County is in Tier 1 of Phase 1A, which means it is distributing vaccine doses to frontline health care workers, medical first responders and dialysis centers.
"For weeks, we have successfully brought both Pfizer-BioNTech and Moderna vaccines to our county's hospitals and medical centers, as well as EMTs and paramedics," said County Public Health Director Corwin Porter.
"We're now working with Walgreens and CVS Pharmacy to deliver vaccines to other groups included in this phase, specifically staff and residents at skilled nursing facilities and other long-term care residences."
The county expects to complete Tier1 of Phase 1A by mid-January and then move into Tier 2 of Phase 1A.
According to the county, it has delivered more than 33,000 doses of the vaccine. The county is prepared to conduct point-of-dispensing sites at multiple locations and coordinate with cities, towns and community partners to reach all communities.
Vons now has a page on its website that tells its customers the vaccine is coming to its pharmacies soon.
The supermarket chain has partnered with the U.S. Department of Health and Human Services to provide vaccines to customers free of charge.
According to Vons' website, the company expects all its pharmacies to receive the vaccine when it is more broadly available.
Customers can sign up to receive updates on vaccine distribution timing and scheduling on Vons' website.