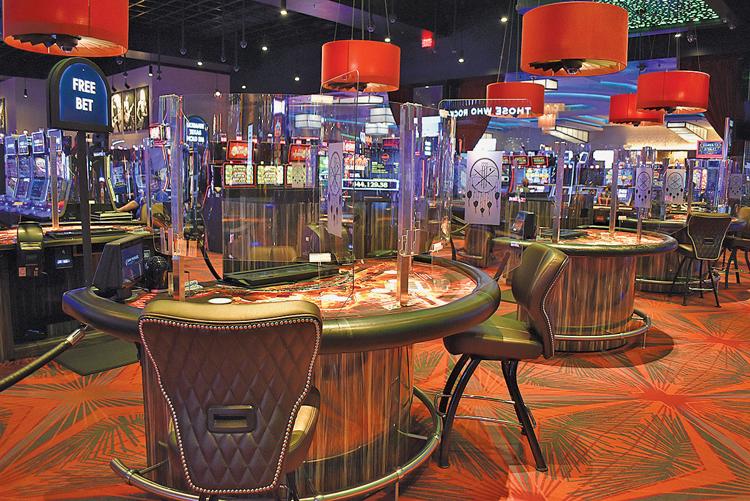 After spending three months closed because of the coronavirus pandemic, San Manuel Casino reopened to the general public on Monday, June 15, with numerous precautionary health measures in place including a greatly reduced capacity.
The casino reopened to invitation-only guests on Wednesday, June 13, as the first step in a phased approach to reopening.
"Just like everybody else, we were watching the developments of the pandemic, and we began to put together a plan of what it would take for us to reopen in a manner in which we felt we could provide the enhanced safety for our team members and our guests," said General Manager Peter Arceo.
In the interest of public safety, the casino extended its closure multiple times.
During the closure, essential personnel continued working as well as employees who helped the San Manuel Band of Mission Indians' service programs to assist the community during the difficulties brought on by the pandemic and the economic closure. This included food programs for seniors in cooperation with the Highland Senior Center and providing meals for local health care personnel and first responders.
"We have a great team here. Everyone is super focused at the task at hand even though we're dealing with an unprecedented worldwide crisis," Acreo said. "None of us have been through this before, but the one thing we have is our togetherness, collaboration and teamwork. We collaborated and worked together via WebX during the closure. We broke teams up to focus on various categories and look for innovations."
Acreo explained that the casino is different from many other entertainment providers in that it can continue to provide its entertainment while spreading out guests.
"The form of entertainment we provide allows us to spread out that entertainment in a manner in which we can control capacity and distance whereas other entertainment, such as a concert venue, relies on people on being in a compressed area all during a specific time period," Acreo said.
"They have an entertainer attracting people to a performance for an hour to an hour-and-a-half in one location all at once where we spread out our entertainment throughout the day and we dictate which machines are turned on, which table games are turned on and how many seats we have available at each of those areas.
"We felt that we had an opportunity to be open because we control those measures in a manner in which would be very difficult for other entertainment venues."
The reopening plan includes in-house employee health safety training, three stage health screening process for guests and employees, enhanced cleaning and sanitation procedures, reduced capacity, the requirement of face masks and new health concierges.
The casino is operating at a reduced capacity of 2,600, about 20 percent of the building's actual capacity.
Returning guests will notice several changes to the casino experience.
As guests enter the casino, they pass through a three-stage health screening process that includes multiple temperature checks done by cameras. At the first stage guests are instructed to uncover their faces and look into a tablet camera that checks temperature and other signs of illness.
Guests then recover their faces and continue into the casino passing under additional temperature cameras monitored by trained health screeners. Should the health screeners see something to indicate that the guest is ill they stop the guest for an additional, more thorough health screening.
In addition to the health screening, live gaming tables have reduced capacity and a majority of the casino's slot machines are strategically turned off to facilitate the recommended six-foot minimum social distancing.
 About 2,000 of the casino's 4,500-plus slot machines are operational.
To allow guests to use the slot machines touch free they are given special stylus.
Clear plastic partitions are used at the casino's gaming tables, bars, hostess stands and in its restaurants.
During the closure several hundred casino employees were furloughed or let go, but the casino has used the need for increased health protocols to rehire and reassign a majority of those employees. More than 50 employees were reassigned as health screeners and over 200 additional employees were reemployed as health concierges.
Health concierges conduct the casino's newly enhanced sanitation program as well as remind guests and employees to keep in compliance with the casino's face mask and social distancing requirements. The concierges also wipe down with sanitation fluid elevators, seats, tables, pens and more after each use.
As part of the sanitation program, each of the casino's restaurants closes once during the day for deep cleaning. Closures are on a staggered schedule so food is available throughout the day.
Eating utensils are one-time use and wait service is suspended at the restaurants.
Before returning to work, every employee must pass two health safety training programs — the first is taken by every employee followed by a second specialized training for each employee's designated assignment.
The training programs were designed in cooperation with Loma Linda University San Manuel Gateway College.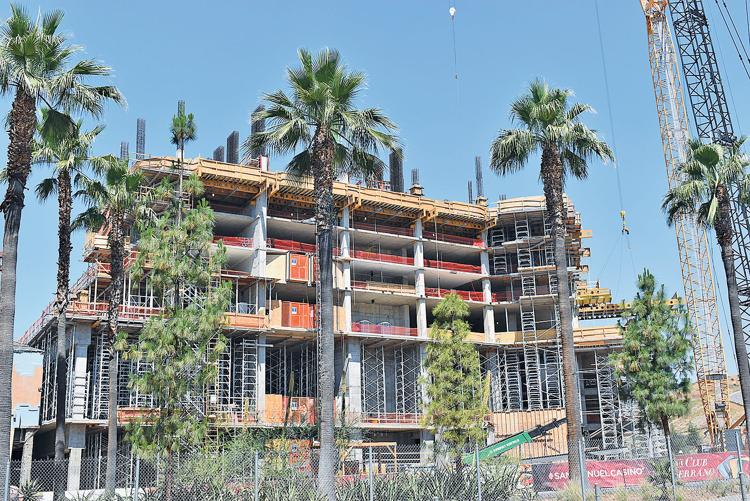 The resort
Construction on the casino's expansion project was slowed for the first couple of weeks as management analyzed weather or not and how to continue safely.
According to Acreo, the new 500-room resort hotel is scheduled for completion in early 2021. Construction crews have erected seven of the hotel's 17 floors.
Since construction was deemed essential by the state's coronavirus closure and the construction is taking place outside of the existing casino, the project's progress was minimally delayed by the casino's coronavirus closure.
San Manuel broke ground on the $500 million project July 25, 2018. When completed the new resort will add a hotel with pool and spa, shopping, restaurants and a 4,000-seat performance venue to the casino's attractions.