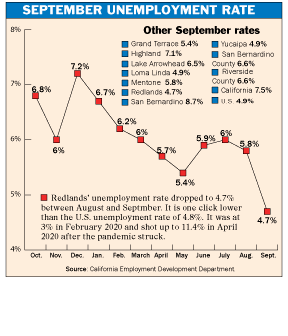 The Redlands unemployment rate dropped to its lowest point in 19 months in September to 4.7%, according to the latest report from the California Employment Development Department (EDD).
The city's rate was 3.1% in February 2020 and 3.4% in March 2020 — a rate considered full employment by some economists — before the pandemic struck. The Redlands rate skyrocketed to 11.4% in April 2020 following a nationwide trend.
The Redlands rate is one click below the U.S. rate of 4.8%.
California's rate held steady at 7.5% between August and September, the EDD reported. But Riverside and San Bernardino counties showed significant improvement, dropping a full point to 6.6%.
The city of San Bernardino, which had been stuck in double digits for more than a year, declined to 8.7%, still the highest among East Valley cities.
Bullet points from the EDD:
• California's gain of 47,400 nonfarm jobs accounted for nearly a quarter (24.4%) of the nation's 194,000 overall jobs gain in September 2021.
• From February 2021 through September 2021, California has averaged approximately 101,500 monthly job gains in a robust employment recovery.
• Professional & Business Services (+6,900) also posted a notable gain thanks to increases in Computer Systems Design and Architectural and Engineering Services.
• Other Services (-3,700) suffered the largest month-over employment decline with more than half of its losses coming in Religious, Grants, Civic, and Professional and Like Organizations.
However, Taner Osman, research manager for UCR's Beacon Economics and Center for Forecasting, points out that will the state has shown significant gains compared to the nation overall, nearly a million more Californians are unemployed compared to pre-pandemic numbers.
"Some states, by contrast, have already recovered all of the jobs lost due to the pandemic," Osman wrote in his monthly report released last Friday.
While California has added jobs at a healthy rate in 2021, as of September, there were 991,000 fewer people employed in the state than in February 2020.
Total nonfarm employment in California has contracted 5.6% since February compared to a 3.3% drop nationally.
As a result, with a larger portion of its workforce still to be recovered, California should continue to see more rapid growth relative to the nation.
The San Bernardino County Economic Development's workforce update reports that the county has added 100,900 jobs since April 2020, the low point of the COVID-19 downturn.