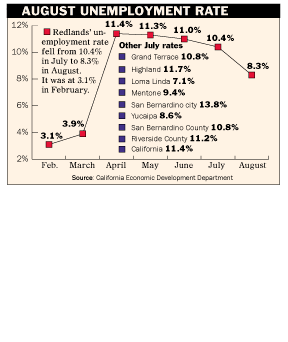 Redlands unemployment rate fell from 10% in July to 8.3% in August. According to California's Economic Development Department (EDD).
Statewide, the jobless rate fell to 11.4%, the first time since March that it was below the high marks of the Great Recession when it was at 12.3% in 2010. The decrease of 2.1 percentage points in California was larger than the nation as a whole, which fell 1.8 points.
California's unemployment rate improved to 11.4% in August as the state's employers added 101,900 jobs, the EDD said. The state has regained nearly one-third of the 2.6 million jobs lost during March in April because of the COVID-19 pandemic — a period that saw the Redlands rate shift from a robust 3.1% in February to 11.4% in April.
San Bernardino County's fell from 13.1% in July to 10.8% in August. In Riverside County the rate dropped from 13.7% to 11.2%. The highest rate in the state is Imperial County at 22.9%. The hardest hit industry sector remains Leisure and Hospitality, which has lost 633,000 jobs since March. Trade, Transportation & Utilities gained 26,000 jobs, buoyed by transportation and warehousing.