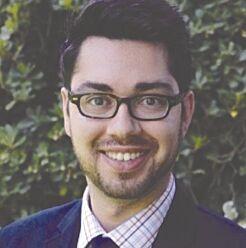 Redlands Chamber of Commerce Executive Director, Chris Alvarez is stepping down. Thursday, Nov. 10, will be his last day.
Alvarez will remain in the Redlands community since his new role will be working at Esri in business development.
Marissa Kramer, former chamber board president and head of the 2019 search committee to hire the executive director, said, "The time he spent and the accolades he's received from his involvement and guidance of the chamber will be one of my proudest achievements from my tenure of being chamber president.
Although Chris's time with the chamber hasn't been long enough, he's made a lasting effect and created a new trajectory for the chamber as a whole. I wish Chris nothing but the absolute best in his future endeavors with Esri, where he will be making huge impacts for small business all over the world."
Alvarez said, "It was definitely a difficult decision to make. My goal was to see the goals of our five-year strategic plan achieved and to continue strengthening the chamber. The work has been engaging and meaningful, but when I was approached about this opportunity at Esri, it gave me pause to really consider what I could do for more businesses on a larger scale.
"In my new role I will continue to engage with small businesses but now at a national level. I'll miss the energy, engagement, and networking that came along with the position, as well as the work to make the chamber a strategic, viable, and critical partner in the community.
"I'm at least content knowing that the chamber is in a good position with a very positive, forward trajectory. There are some exciting programs, events, and work on the horizon and the board of directors, committee chairs, partners, and members will ensure the chamber continues to grow and strengthen."
While Alvarez and the board work on strategy and planning for the interim, the Board has also begun work on assembling a search and hiring committee to identify and hire the next executive director.
Information on this committee and who to contact for inquiries will be shared next week.