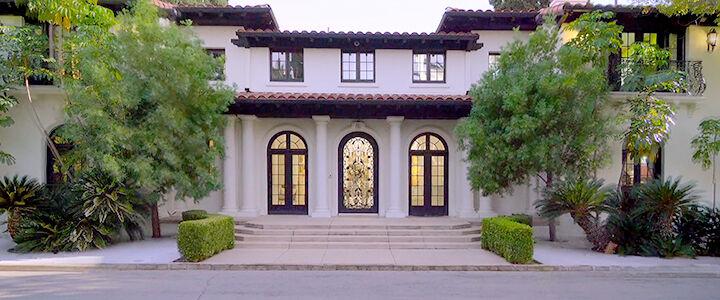 Known as the Villa Del Sol, the approximate 13,000-square-foot mansion at 1350 S. Center St. in Redlands, is up for sale for $5,975,000.
The listing price is believed to be the highest in Redlands real estate history, according to Shirley Harry, who has followed local real estate trends for many years. "In my 45 years in the business, I don't recall another listing that high," she said. "It has not been many years since we passed the million dollar mark, and now the million dollar market in Redlands is substantial."
The home was built in 1910 as the winter home of O.T. Higgins, son of then New York Gov. Frank W. Higgins. Designed by Robert D. Farquhar, the mansion was modeled after Higgins's French wife's family home in France. It has 12 bedrooms and 13.5 bathrooms in the main house and in a detached "guest hotel," six-car garage, an Olympic-size swimming pool, and many other amenities on 3.6 acres.
Unfortunately, O.T. Higgins died just two years after the house was completed, and it has gone through many owners and renovations over the years.
At one time it was a maternity hospital, and later a boutique hotel.
In 2007 Veronica Gallardo, founder and CEO of Veronica's Insurance, paid $2.2 million for the property which was in a state of disrepair. Gallardo hired Palm Beach-based designer Tonie VanderHulst to renovate the interiors and furnishings to their originally intended French style. Gallardo replaced all the utilities, installed a second swimming pool (a secret lagoon), and re-landscaped the grounds. Both VanderHulst and Gallardo traveled to France and procured furnishings and other amenities.
The result is an opulently furnished mansion with several marble floors, and ornate chandeliers in nearly every room.
In early 2020, Gallardo relocated closer to central Los Angeles when she bought a smaller mansion in Encino from former NFL star Antonio Gates.
Now, she is offering the completely renovated Higgins mansion, complete with all furnishings.
The property is listed by Keller Williams Realty College Park in Upland and is on the Realtor.com web site. A six-year-old video tour of the house is on YouTube and may be accessed by searching for "Villa del Sol, Redlands CA."
A profile of Veronica Gallardo, her business, and her renovation of the Higgins mansion is available in the Dec. 17, 2021, issue of Dirt Magazine.