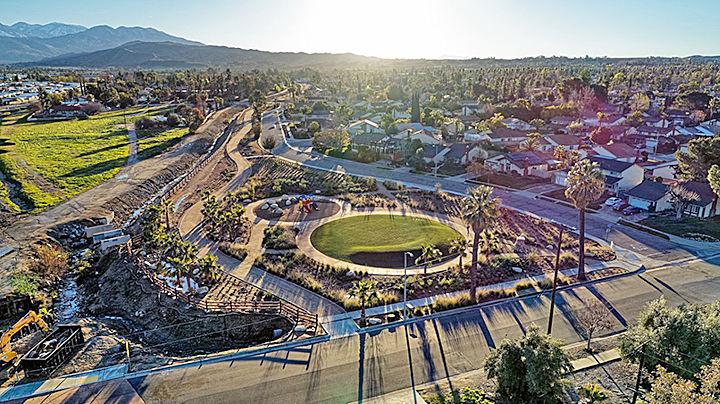 When Redlands receives the services of civil engineering specialists, they are often provided by the local firm Hernandez, Kroone and Associates (HKA), owned by the married team of Richard and Anne Hernandez, two civil engineers who have served Redlands for 32 years. They formed the company in 1987.
They provide services to government and private sector clients. When asked to define civil engineering, Anne Hernandez explained the dictionary meaning is "benefitting the public." According to the Professional Engineers Act, a civil engineer has the license authority to study or design airports, airways, water and sewer facilities, foundations, grading, building, bridges, highways, tunnels, municipal improvements, etc.
Their first project for Redlands was on Lugonia Avenue, just west of Wabash Street, to design the residential development and street improvements on Lugonia Avenue, also known as State Route 38.
This team designed the Orange and Alabama street bridges over the Santa Ana River. Another interesting one is the Zanja Trail from Ninth Street to Wabash Avenue. The firm assisted in the design of the street crossing, improvements to comply with the Americans with Disabilities Act, traffic studies to ensure safety of the crossing and storm water inspection during construction.
They also provided surveying, grading plans, street improvements, utilities, parking lot and design of a box culvert underneath Nevada Street at the site of Montessori High School.
When describing their commitment to civil engineering, Anne said, "During college I switched my major several times and engineering and I just clicked! I like solving problems, I'm good at solving problems and that is a lot of what engineering is."
She graduated with an engineering degree from Michigan State in 1983 and accepted a position with Caltrans.
"I felt I was using about 10 percent of my education and wanted to do more and work on more interesting and challenging projects," she said.
After Richard graduated with an engineering technology degree from Cal Poly, Pomona, he  also went to work for Caltrans.
"After working 7 years for them, he and I started Hernandez, Kroone and Associates," Anne said. "Richard really enjoys seeing the project from the conceptual phase, all the way through construction. He says it is a good, satisfying feeling to see the projects one has worked on fully constructed and being a benefit to others!
"Being in private consulting offers us more variety. When I find solutions to solve a traffic operational problem for the city, I not only help the city, I have also helped the community, by providing a solution that is safer and more convenient. Richard says it is a good, satisfying feeling to see the projects that we have worked on, constructed and being a benefit to others."
The husband and wife team of engineers also provides very special services to Redlands, under the title of "Pro Bono."  Among the projects to which they have graciously donated their services are: The legal description for the dedication of the Terrace Park to Redlands, surveying services for the Glass Museum and the lot next door to it at 1157 Orange St., and the grading plan design for the Barton School House at 1775 Orange St.
 Businesses in Redlands, whether old or new, always inspire citizens who read about the giving back they give to the city from their owners and employees.  For HKA, this also includes coaching local soccer and baseball teams, plus the service of a partner/owner, with the firms' engineering talents and experience, for the Public Works Board and the ADA Commission.