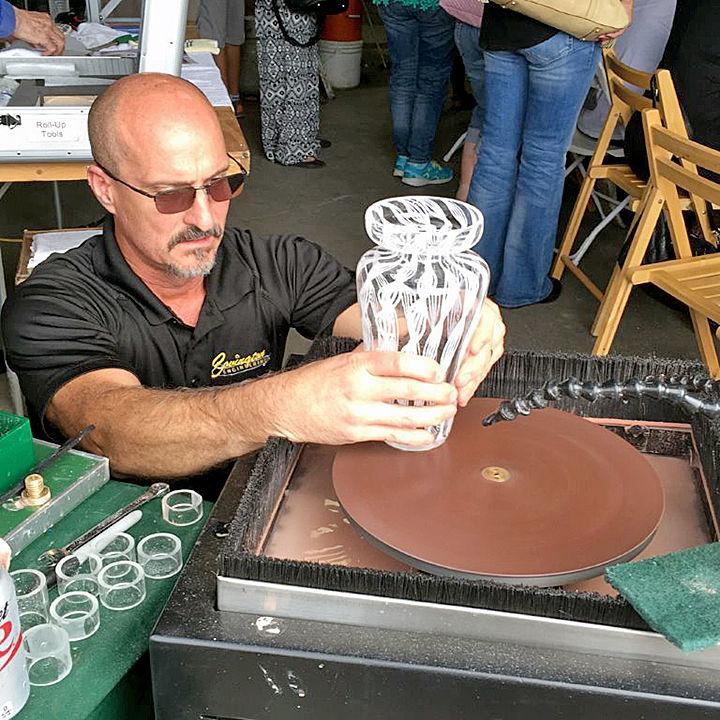 Covington Engineering was founded in the 1840s and moved to Redlands in 1848. It originally provided services such as sharpening tools, repairing farm equipment and drilling wells. It also fabricated tools, when needed for these and other local industries.  
In the 1920s and '30s the company's designers created special tools for a new and expanding lapidary industry, the engraving of precious stones. The 1970s saw a boom in this industry, with hundreds of manufacturers designing and producing lapidary and glass equipment. Today, Covington Engineering is part of a niche in the lapidary and glass industry, with only a couple of other manufacturers existing in the country.
"Originally, Covington Engineering did custom design and manufacturing work," President Dan Drouault said. "Nowadays, the term 'engineer' has a different meaning that isn't limited to the mechanical aspect we thrive in."
Drouault became an employee more than 22 year ago. His retail background had prepared him for learning the nuances of Covington's manufacturing business. In 2006, the owners offered him purchase of the entire, steadily successful business. He readily accepted.
But now this provider of dozens of specially designed and finely created machines must relocate. Drouault cited their current address as a stay of more than 50 years of growth and profit. He described their search for a new site as "10 years of research for more space — we outgrew this building several years ago — and a better, small, business friendly environment in another state.
"We've outgrown our space and it is time to move. We know that of our current employees, more than half have said they would remain with us whatever the location. Moving to another state offers many advantages, including monetary savings and freedoms of ownership."
Moving might include lower taxes, workers' compensation rates, cost of living and gasoline.
"In several states, high schools still offer educational studies that prepare students for employment in the fields of mechanics, manufacturing and electrical utilities," he said. "Several states have welcomed us and offered special assistance when needed, if we become their 'new residents.'
Drouaut concluded, "Services to our customers would not be affected and could even be enhanced, by our relocation to another state. We enjoy being in Redlands, but can no longer afford to be here.
"Recently, I was able to compare the previous year of electricity costs to what one year would be in one of the locations we are considering.  We would save $22,000 in one year! Many companies have recently relocated, to prevent closure, others to sustain services to valued customers. We have not made a final decision about when and where, but we all agree, it's time to move."