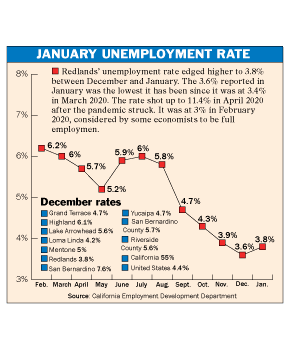 San Bernardino County's job market has surged past pre-pandemic levels, with payrolls over 950,000 for the third month in a row, according to an analysis of newly released state numbers.
The California Employment Development Department (EDD) reported last Friday that, despite a typical seasonal uptick in the county's unemployment rate from December to January, payrolls are now 13,000 above where they were in January 2020 — before the COVID-19 pandemic severely impacted the global economy, said a report released last Friday by San Bernardino County's Workforce Development Board.
The county's unemployment rate increased from 5.3% in December to 5.7% in January. Riverside County's rate went from 5.1% to 5.6%.
The state added jobs at a rate that was more than 50% greater than the national growth rate, according to a report released last Friday by the UCR Center for Economic Forecasting and Beacon Economics.
"With abundant job openings and more room to grow, we expect to see California's labor market continue to outperform the national economy in 2022," said UCR Research Manager Taner Osman.
Redlands unemployment rate edged up from 3.6% to 3.8% from December to January, according to California's Employment Development Department.
It remains the lowest in the East Valley.
California's rate held steady at 5.8% after the December rate was adjusted from the initial report of 6.5%.
The national rate stands at 4%, according to the U.S. Bureau of Labor Statistics.