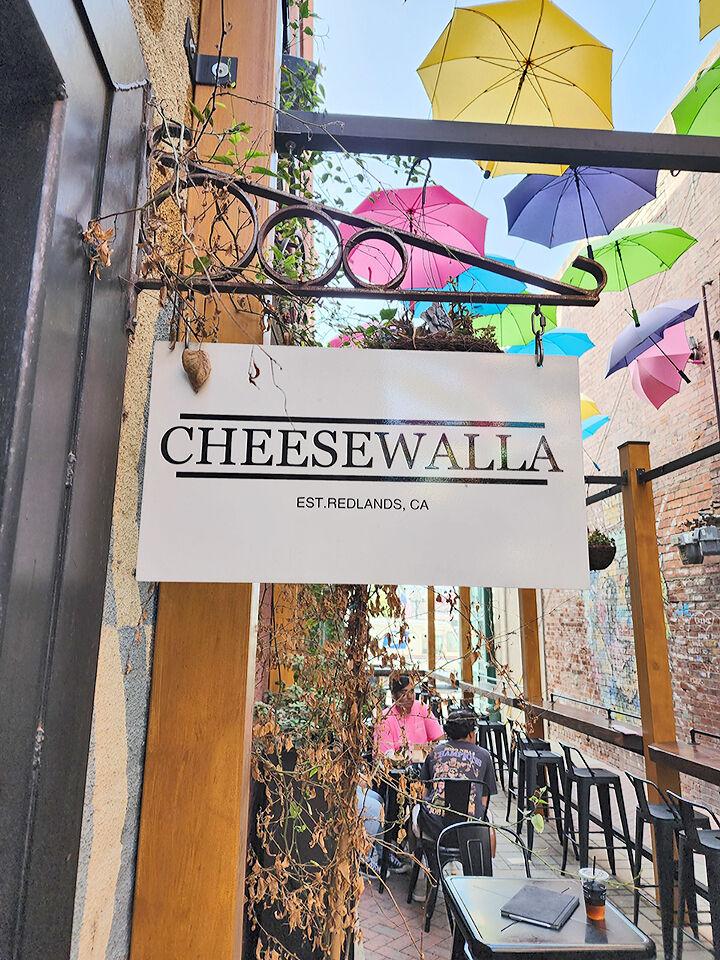 Redlands' own gourmet grilled-cheese restaurant, Cheesewalla, has come a long way from its humble beginnings as a food stand at weekly Thursday Market Nights in 2015.
After routinely selling out on Thursday nights, the sibling founders, Kadir Fakir and Kamrun Parveen, realized they might have the formula for a successful restaurant on their hands. In 2017, they opened Cheesewalla in the Orange Street Alley. There, they have found a loyal following of comfort food aficionados who indulge in creative, cheesy goodness under the colorful umbrellas. Now, they are getting ready to expand into an adjacent suite with a full bar in a setting that mixes modern industrial chic.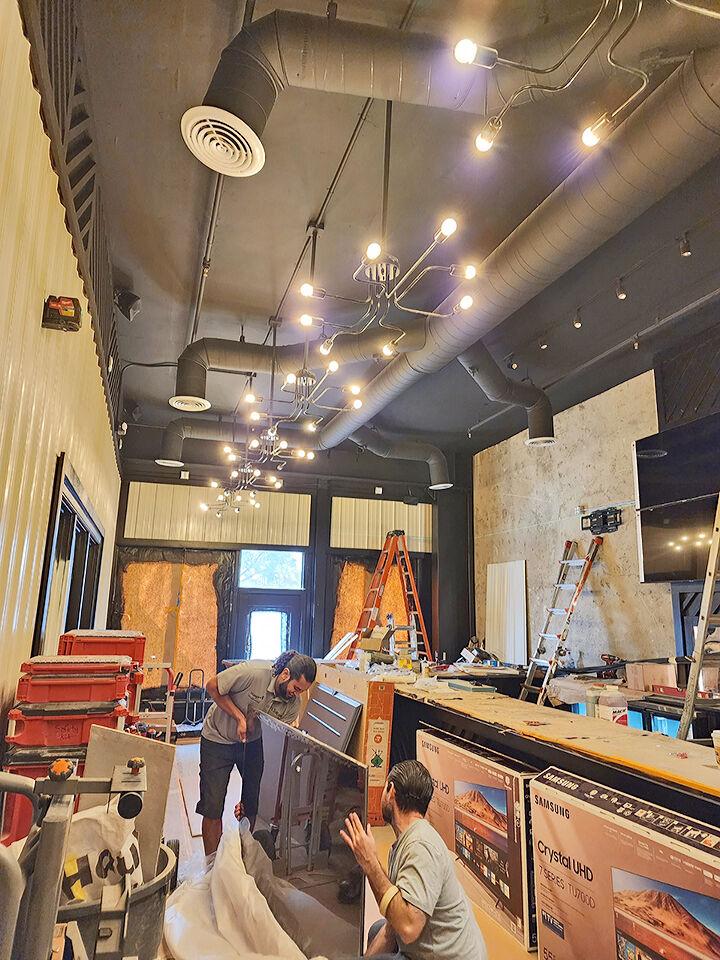 The owners' family, originally from India, settled in Redlands in the 1990s after winning immigrant visas in the annual lottery. The family sold everything they had and bought one-way plane tickets to the United States. Parveen was 4 and Fakir was 1½. They are both products of Redlands K-12 schools. To them, Redlands is home, and it was the obvious location for a restaurant when they decided to make the leap from food stand to a brick-and-mortar establishment.
Fakir noted, "Redlands has always been the only home I've ever known. It wouldn't make sense to open anywhere else."
Parveen added, "Redlands is where my life starts from memory so it's only right to have Cheesewalla's story to start here, too."
Cheesewalla's food offerings vary from the classic traditional grilled cheese sandwich to creative combinations such as the BBQ Mac and Cheese and Jalapeno Popper. The company's motto is "Where comfort meets creativity."
The concept for the menu was to take comfort food items that people love, such as BBQ plates, chicken wings and samosa, and reimagine them as a grilled cheese sandwich. Guests are also able to convert any of the sandwich offerings into a loaded tater tot or quesadilla, thereby tripling the size of the menu. For many grilled cheese lovers, a side of tomato soup is a must. Cheesewalla delivers with a house-made tomato basil bisque that has become a fan favorite.
The new bar will offer traditional cocktails and drinks, with special Redlands-inspired concoctions, such as an orange drop martini and citrus mule. The "Mamba 24" cocktail will be a nod to Fakir's favorite basketball player, Kobe Bryant.
Guests will also be able to enjoy beverages from the bar on either of the two existing patios, or nosh on the grilled cheese of their choice at the bar. For now, the food menu will remain the same, though it's possible the bar will eventually inspire more offerings like salads, cold sandwiches and appetizers.
The original inspiration for the grilled cheese focus came from a trip Fakir took to San Francisco where he encountered a gourmet grilled cheese restaurant that used high-end ingredients and charged a lot for so-so sandwiches. Fakir was inspired by the grilled cheese concept, but was convinced he could create something more delicious. When he tried the idea out at their first Market Night, they sold out in an hour. The two years they spent running their stand at Market Nights gave them a chance to try a lot of different sandwiches to see what appealed to their guests. The BBQ Mac and Cheese was always a best seller and remains so to this day.
Transitioning from a weekly food vendor to a brick-and-mortar restaurant came with a big learning curve for the siblings. They went from planning food for a single day of the week to running a restaurant open seven days. It took time to learn how much food they would need to order so they didn't run out mid-week. They also went from running the stand themselves with the help of some friends and family to now employing a staff of 13. Managing a physical space and investing in restaurant equipment were also eye-openers.
Fakir and Parveen worked hard, learned on the fly and now are ready to grow some more. The family luck that brought them to the United States repeated itself when they won a coveted liquor license from the Alcoholic Beverage Control lottery system. They signed the lease on their expanded space in May 2021. Thanks to the pandemic, supply chain delays and the challenges of doing a build-out in a historic building, everything has taken longer than expected, but they hope to start serving drinks in the new bar next month.
Fakir likes to think of their Market Night beginnings as his "lemonade stand" that grew up and became a restaurant. Now, he said, the restaurant is poised to enter the "big leagues" with the addition of the bar. And they're not done dreaming yet, as he talks about someday opening more locations or even offering franchises. Their parents are "super excited… but nervous," knowing how much hard work it takes to run your own business. But just like the balance of gooey cheese to crispy bread on the perfect grilled cheese sandwich, the brother-sister team seem to have just the right combination of luck and effort to succeed.­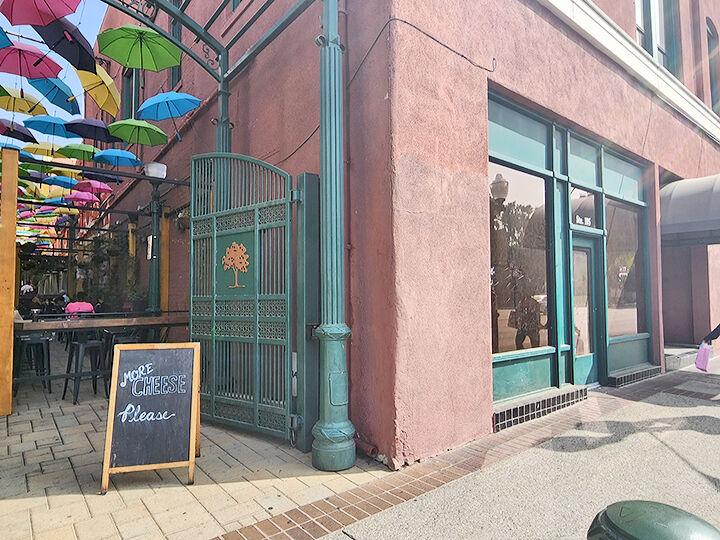 Cheesewalla
Where: 5 E. Citrus Ave.,Suite 106, Redlands
Hours: 11 a.m. to 9 p.m. Monday through Saturday, 11 a.m. to 6 p.m. Sundays.
For more information: Visit cheesewalla.com, email hello@cheesewalla.com or call (909) 748-7438.