The Redlands Chamber of Commerce saluted the Redlands firefighter and police officer of the year at its virtual Installation and Awards Dinner Thursday night. However, the annual traditional selection of man and woman of the year award remains on hold because of the pandemic.
Capt. Josh Hannan was announced as firefighter of the year. Redlands police officer of the year was Sgt. Kyle Alexander, who led seven successful homicide investigations in 2020.
Hannan, who has served in the Fire Department since 2005, was raised in Big Bear Lake. A 1999 graduate of Big Bear High School, he often visited his father's fire station in Long Beach. He worked as a lifeguard and was trained in basic first aid and CPR.
He earned a social sciences degree from the University of La Verne in 2004 and  his license to become an emergency medical technician at the Crafton Hill Community College fire academy.
Hannan worked for the San Bernardino County Fire Department before joining the Redlands department. He was promoted to engineer in 2011 and became a captain in 2018. Hannan earned several certificates to advance his career and service.
"Capt. Hannan has shown his ability to lead others," said Redlands Fire Chief Jim Topoleski. Josh has a unique way of connecting with people through his charismatic energy that people naturally gravitate toward."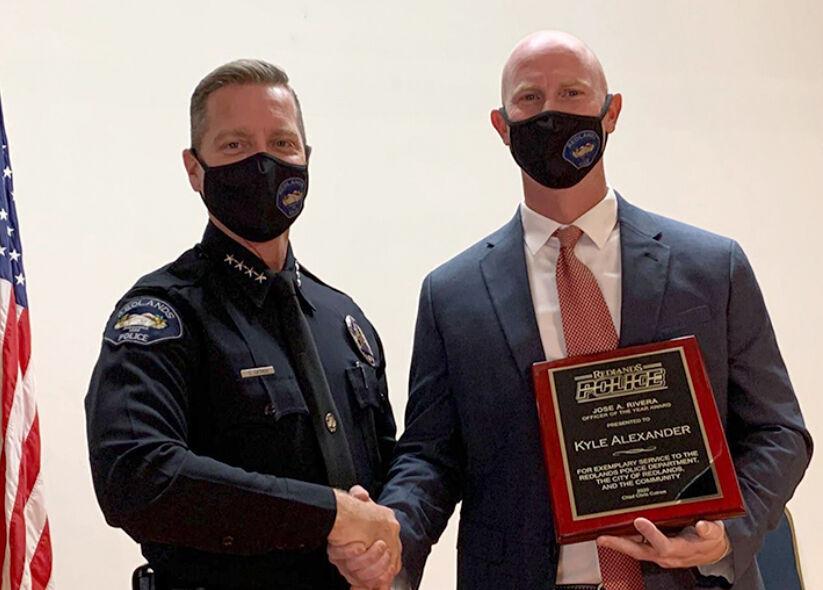 Police Chief Chris Catren presented the department's Jose A. Rivera award to Alexander, named in honor of the first constable in the city of Redlands. Constable Rivera was best known for treating everyone with dignity and respect,.
Sgt. Alexander is assigned to the department's Investigative Services Bureau where he supervises the department's team of detectives and investigators, Forensics, Property & Evidence, and Crime Analysis. He is also one of the supervising sergeants of the SWAT team and a board member of the Redlands Police Officers' Association.
"He is a dedicated and dependable officer and a humble, well-respected, hands-on supervisor who consistently leads by example," Catren said. "His actions honor and exemplify the Golden Rule of Policing.
"He is committed to public service, professionalism, and benevolence."