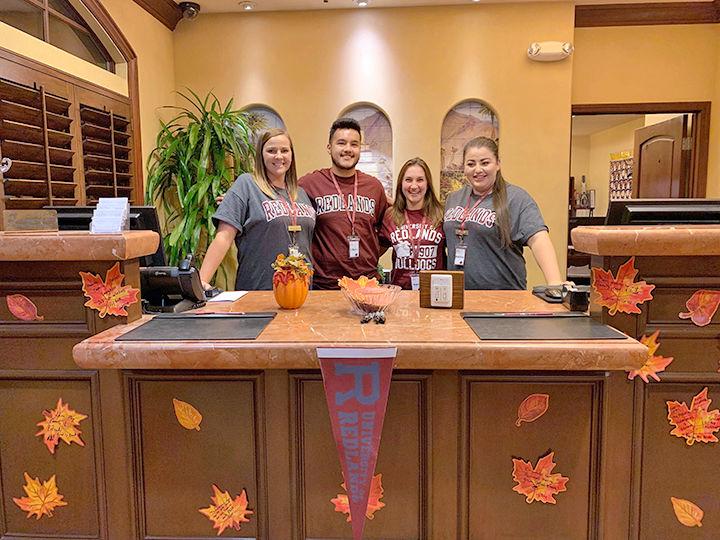 While many Redlands businesses have been forced to close, the Ayres Hotel's doors are open for people who need a place to stay.
"Caring for people is our core belief," wrote the family-owned company. "With the uncertainty surrounding the COVID-19 situation, we want to assure customers that we are still here to support and welcome everyone during these trying times."
Marissa Kramer, Ayres Redlands general manager, said the hotel industry is doing its best.
"At this point, it's at the discretion of each hotels' management company to remain open or closed," said Kramer. "For most, the biggest problem is the financial impact of losing most travel in the span of just a few days."
How do hotels decide whether or not to stay open?
"I know that for properties that have closed, it was just basic math," said Kramer. "They wouldn't keep the lights on or doors open for just a few guests. It's not profitable."
How many reservations are coming in for the Ayres Redlands now compared to before?
A large part of the Redlands property's clientele during the spring are from wedding parties and Esri employees. Now with gathering and travel restrictions, those reservations are no longer available.
"On March 10, our projected monthly occupancy was 85 percent," said Kramer. "As of Monday, March 30, we are going to end the month at 46 percent. Each day we have about 10 rooms booked."
Who are the people still making reservations?
"Esri has ceased all travel until May," said Kramer. "University of Redlands parents are trickling in to pick up their kids. Other than that, it's local people looking to get away for the night, parents whose kids are all at home."
Though business is less than ideal, there has been a positive new relationship started between hotel and community.
"We have partnered with Redlands Family Service Association to help transition some of their clients," said Kramer. "It's been a blessing for both parties."
How is COVID-19 affecting hotel employees' hours?
"We have a skeleton crew working," said Kramer. "Breakfast is grab-and-go style. The Managers' Reception is suspended. We cover the desk with four people per day. For the other departments, we have one housekeeper, the housekeeping supervisor and our maintenance man working."
What precautions are housekeepers taking to combat spread and exposure?
"We have a great disinfectant that we are using," said Kramer. "It's made by Butler Chemicals. It's called Sani-Kleen. It kills a lot of viruses, including the coronavirus."