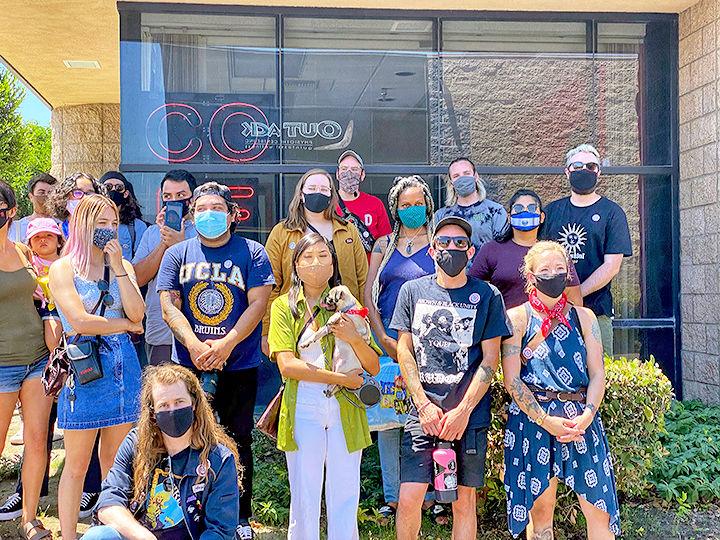 Local favorite Augie's Coffee has laid off all employees and closed all retail operations due to COVID-19, but employees say the pandemic is a guise.
On Saturday, July 4, Augie's announced via Instagram that all five locations were shut down indefinitely.
"We are choosing to focus on our families and do what we can to keep our neighbors and community safe," Augie's said in its statement posted on social media. "This closing of stores is indefinite as we need time to reevaluate how Augie's can operate safely in the future, given the reality of the prolonged effect of this virus."
However, former employees who gathered outside of Augie's headquarters on Monday, July 6, said they were laid off for unionizing and have since filed an Unfair Labor Practice complaint  with the National Labor Relations Board. Employees from the five locations stood outside the headquarters, where owners were inside, refusing to talk.
According to the newly formed Augie's Union, throughout the pandemic, workers at the coffee chain had been asking management to address concerns related to safety, job security and compensation issues. When those concerns weren't addressed, they decided to form a union. Workers requested that management recognize their union on June 26, and on July 4, they were informed via email about the closing locations and layoffs.
"We felt unsafe," said Matthew Soliz. "None of us were at work when owners sent that email, and they had dodged us and refused to talk. We don't know when they plan to reopen or if our jobs will be there. People have bills. We need communication, at least."
Katie Walsh, a former manager at Augie's on Stuart Avenue, said work-life during the pandemic was a nightmare.
"Our entire staff at my location quit because they were scared for their health and their families," said Walsh. "We had to borrow workers from other locations. We even asked to be shut down because we were working 12 days straight. The owners told us that if we closed, we wouldn't get our jobs back."
Josh Penunuri, manager at Augie's Riverside location, said face masks were made and sold online to customers before given to employees.
"Customers would bring us masks," said Walsh. "Customers who worked in the medical field were dropping off masks for us."
Walsh said until COVID-19, the relationship with workers and the owners was good.
"They always told us we were family," she said. "We had bumps along the way, but for the most part, we had a strong relationship."
Soliz said he and his fellow workers simply want to communicate with owners about information on job security.
"All we want to know is if we will get our jobs back," said Soliz. "We want to work. We want to work the job we are good at, making coffee."
On Tuesday, July 7, Augie's posted an updated statement to its Instagram account detailing reasons for closures.
"We closed our retail locations because COVID-19 crippled our ability to staff and facilitate safe frontline operations," wrote ownership. "No, we did not lay off staff because of their desire to form a union. The decision was based on the effects of COVID-19 on our business, staff and customers. The interest in unionizing was not a factor in the closures.
"We had been wrestling with the decision to stay open for months," Augie's continued. "The funds from the Paycheck Protection Plan Loan was used over the past eight weeks for payroll, rent and utilities. We had no cash reserves to carry us through the state-mandated restrictions on business operations. The loan propped up operations. If not for that, we likely would have closed much sooner."