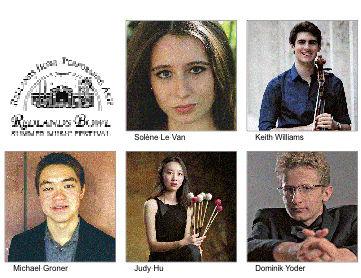 Dollars for college were scarce in my youth. So I competed for scholarships and entered speech contests sponsored by service clubs.
One such event required the delivery of a memorized speech on how to improve the effectiveness of Congress—a mystery enduring to the present day.
As I delivered my take on the topic at an American Legion hall, I blanked out. After stammering in terror for an eternity, I finally found my way back on track. To my surprise, I won the contest— but only because my feverish opponent fainted.
This experience nearly deflated thoughts of continuing. But I soon realized there were lessons here. I vowed to improve and continue sharpening my skills.
Singer Celine Dion observed the value of this dynamic.
"I'm not in competition with anybody but myself," she said. "My goal is to beat my last performance."
I have deep respect for the truly talented candidates engaged in scholastic and artistic contests.
One of the most prestigious events in the Inland Empire is the Redlands Bowl Performing Arts annual Grand Finals of the Young Artists Concerto Competition. This year's edition will be presented at 8 p.m. Tuesday, July 2.
"The Hollywood Chamber Orchestra will provide an amazing musical backdrop to showcase the talents of five Young Artist finalists," revealed Valerie Peister, Redlands Bowl Performing Arts director of programming and community engagement.
The finalists are chosen through a comprehensive worldwide selection process.
The field is narrowed to five in the spring and the winner's are announced at the evening's conclusion. The scholarship prizes are provided by The Associates of the Redlands Bowl.
Valerie is enthused about the caliber of the candidates.
"One of this year's finalists, Judy Hu, hails from China," she noted. "In addition, our acclaimed guest artist, violinist Lindsay Deutsch, will also perform 'A Beatles Fantasy Concerto.' She is currently touring the world as a solo violinist with Yanni. This will be a thrilling concert evening."
The young artists performing are formidable competitors and already distinguished.
Pianist Dominik Yoder of Los Angeles will play the Prokofiev Piano Concerto No. 3, 1st Mvmt. He began studying piano at age three and has won numerous competitions. Awarded the Gold Medal in the 2018 Kosciuszko Foundation Competition for Young Pianists in Washington, D.C., Yoder has also earned First Prize in the MTAC and CAPMT State Competitions. A performer with the Culver City Symphony Orchestra, he has given concerts throughout the United States, Germany and Puerto Rico. In addition, he has performed for Polish radio and television.
Michael Groner of Irvine will perform Rachmaninoff's Piano Concerto No. 2, 1st Mvmt. A classical pianist studying chamber music and music theory at the Colbert School of Performing Arts in Los Angeles, Groner has been awarded a performance at Carnegie Hall, New York. He has also performed at the Mark Taper Auditorium and has received prizes from numerous contests, including the Glendale Piano Competition.
Pianist Judy Hu will play Emmanuel Sejourne's Concerto for Marimba and Strings. She began playing the piano, drums and guitar as a child and, at age nine, was the youngest student to play with Xinghai Conservatory's Percussion Ensemble and the International Percussion Philharmonic "IPP." Hu has performed throughout Europe, Asia and Australia with the Guangzhou Symphony Youth Orchestra and has won Marimba and Timpani specialties at the International Percussion Competition in Shanghai.
Cellist Keith Williams of Los Angeles will perform the Barber Cello Concerto, Mvmt 2 & 3. As a boy soprano in his youth, Williams regularly sang cantatas with the Boston Symphony Orchestra. He earned his Bachelor's in Music from The Juilliard School and continues studying cello with Ralph Kirshbaum at USC's Thornton School of Music.
And soprano Solène Le Van of Anaheim will sing noted works by Puccini, Massenet and Donizetti. Kim Josephson of the Metropolitan Opera has called Le Van a "phenomenon." Le Van's solo activities have taken her to Carnegie Hall, Japan, Luxembourg and Sweden. At age 15 she was accepted into Princeton, where she was a two-time winner of the Princeton Concerto Competition.
This display of talent promises to be amazing. As Valerie Piester reflected, "I often think how blessed I am to see these young artists perform in person—just as they are beginning the upward trajectory of their careers."
Wayne R. Scott is an award-winning writer, director and producer who serves as president of LifeHouse Theater, Redlands.