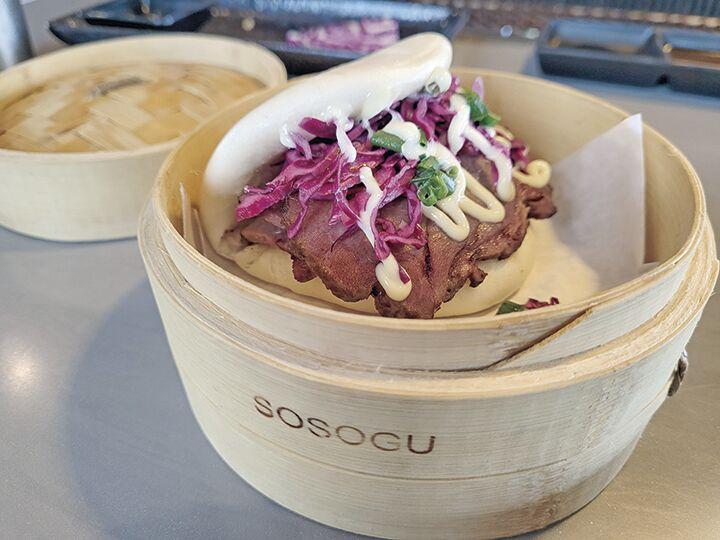 The focus at Sosogu Ramen & Japanese BBQ, a sleek Japanese restaurant in downtown Redlands, is ramen noodles and built-in gas fired barbecue grills where you can cook assorted meats, seafood and vegetables to your desired doneness.
The Hakata style noodles are made in house. Prior to rolling and cutting, the dough is "rested" in aged bourbon barrels to impart a subtle flavor to the dough and perfect the final texture of the noodles – soft, with a pleasant chew.
We began with a smoky brisket bao, in the shape of a thick, folded soft taco, stuffed with deliciously smoky tender meat topped with marinated red cabbage.
Next came crispy flat wonton skins piled high with impeccably fresh, diced spicy tuna with pickled carrots
We also opted for a side of spicy cucumber rounds. The cold slices of cucumber were topped with a creamy Sriracha sauce that provided a slow building jolt of heat on the palate. The cold crunchy glow of heat provided a distinctly different mouth feel.
The grill was lit early on in our meal and we tossed some slices of purple cabbage on it to see how long it would take to "cook." Two to three minutes seemed optimal.
The two barbecue items we opted for were marinated shaved ribeye and a mushroom medley consisting of king trumpets, oyster and portobello mushrooms. All were very meaty in texture and an excellent substitute for non-meat eaters (as well as a vegetable medley that was also available).
Where: 360 Orange St., RedlandsHours: Sunday-Wednesday 11 a.m.-9 p.m. Thursday 11 a.m.-10 p.…
The mushrooms, because they lack any fat, require about two minutes per side, except for the thick portobello caps that need a little more time. The thinly sliced steak takes no more than a minute per side to cook the meat to a medium doneness. Any longer than that amount of time could run the risk of burning the meat or excessive chewiness. A long pair of metal tongs is supplied for cooking, but chopsticks may provide a little more dexterity control.
Three sauces accompany the barbecue items: a mayo based sauce, a sweet soy sesame sauce and a spicy ponzu version.
Our final two items were sticky karaage, and a bowl of black garlic ramen. The karaage consisted of very tender and crispy chicken thigh nuggets and a dish of Sriracha infused mayo for dipping purposes. Pickled carrots, daikon radish and a veggie gyoza rounded out this highly recommended item.
The broth for the black garlic ramen is made by boiling pork bones for 12 hours, resulting in a creamy light colored broth with an intense meaty flavor and aroma. Afloat in this sea of flavor is sliced pork belly, green onions, mushrooms, half a hard boiled egg and droplets of black garlic oil, along with delicious thick ramen noodles. The dish is bursting with complimentary flavors and an array of textures.
In sum, you can't go wrong foodwise at Sosogu Ramen & Japanese BBQ.
The background music, however, could be a little less obtrusive.