Because of San Jacinto's large Hispanic population, there are any number of high-quality Mexican restaurants from which to choose. On a recent visit, our intent was to review Rinconcito Oaxaqueno, a restaurant that serves an array of moles, but they were unfortunately temporarily closed. Fortunately for us, we then stumbled upon Taqueria Lombardia, which showcases the food of Michoacan, the Mexican state west of Mexico City that borders the Pacific Ocean. Talk about going from adversity to triumph in the span of 15 minutes!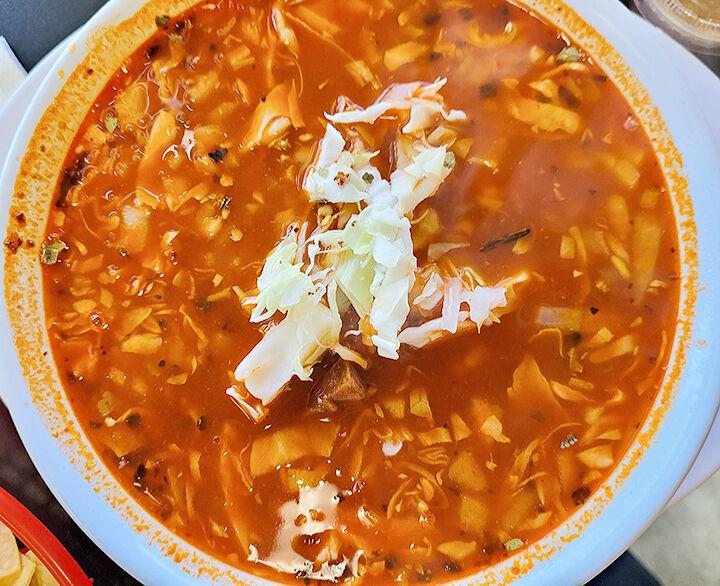 The cuisine of Michoacan makes abundant use of dried chile chilaca (pasilla) and incredibly creamy peruano beans. It is also known for their lard-fried carnitas, posole (a hominy and pork soup) and the liberal use of spicy chiles such as habaneros and chiles de arbol as well as chile seeds.
Succulent birria (shredded beef in a tangy red broth) and their chorizo (made with ground pork, spicy guajillo chiles and vinegar) are also popular dishes. Their tamales rival those from the Yucatan, and the dough is made from fresh corn rather than masa.
Our first item was a buche taco. The filling consisted of chopped cow's stomach-mildly flavored and a bit chewy. It's served open faced on a small corn tortilla with chopped onions, cilantro, lime wedges and a side of pickled carrots.
Where: 480 N. State St. D, San JacintoHours: 9 a.m. to 8 p.m. daily.Prices: Single items $1.…
Salsas are available ranging from the incendiary habanero version to a relatively mild green salsa.
The sope consists of a 3-inch diameter corn cake, which we ordered with beef birria. The meat sits on a bed of creamy beans and is topped with shredded lettuce, onions, tomatoes, cheese and sour cream. The flavor profile of the meat was excellent, redolent with the presence of cumin and cinnamon.
The carnitas torta is quite a behemoth — a gigantic roll that takes up the whole plate is stuffed with crispy carnitas (our choice of meat), tomatoes, lettuce and cilantro.
You then add some salsa to the interior, depending on your heat tolerance. This is large enough to be shared.
The mulita incorporates two lightly fried 3-inch tortillas that bookend our choice of al pastor meat, spit grilled sliced pork that is marinated in an adobo sauce of fresh dried chiles, garlic and vinegar, and held together with melted cheese on each side along with those highly addictive creamy beans.
And then there's the posole, previously only available on weekends, which became so popular that it's now offered daily.
It's chock full of hominy (sprouted corn kernels), fatty pork chunks and a rather spicy orange red broth with a nostril clearing, slow-building heat.
For those who like their posole even spicier, drizzle in a bit of their spontaneously combustible chili oil, which hits the front of the tongue like a runaway fireball.
They also offer a mole de pollo with a dark brown mole sauce that is quite complex, with a nice afterglow on the palate.
I'd be remiss if I neglected to mention the morisqueta, a dish from the Apatzingan area of Michoacan. Layers of rice and beans are topped with chile verde containing big hunks of succulent pork, then sprinkled with fresh-grated cheese and drizzles of sour cream over the top. The layering of textures and flavors makes for a filling, family friendly meal.
Other items worth considering include machaca, fish and shrimp tacos and burritos, taquitos and quesadillas.
David Cohen is the former co-host of the PBS show "Table for Two."