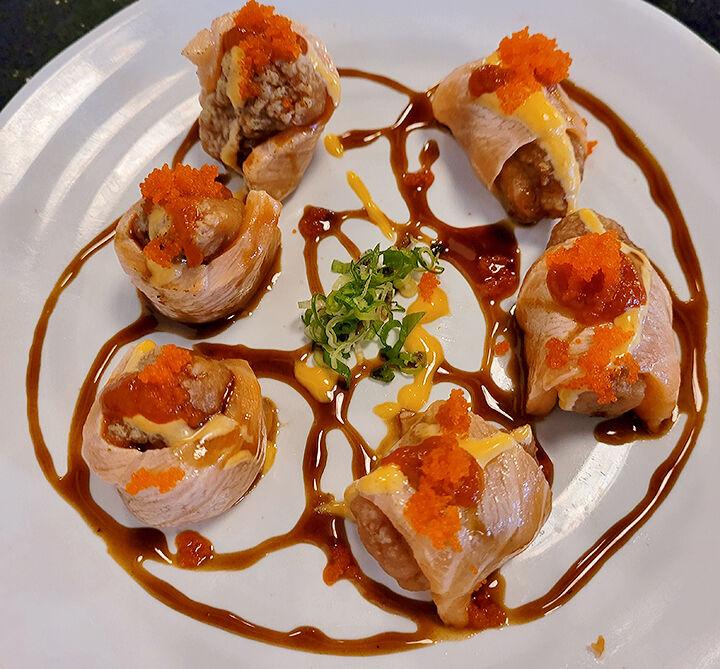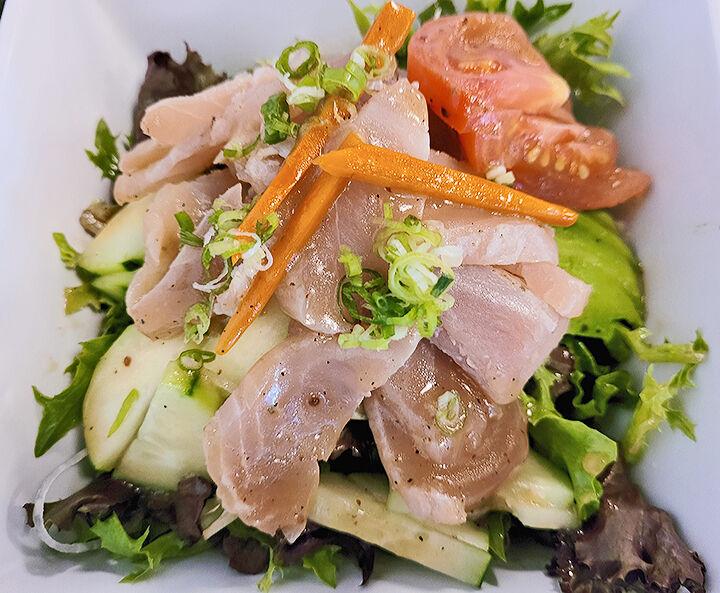 Readers might be wondering why it has taken me so long to get around to reviewing a Japanese restaurant. Well, for me, flavor always trumps texture, and at least here in the Inland Empire, what you encounter primarily are sushi, sashimi and assorted rolls.
Sushi and sashimi are primarily a textural experience. Rolls vary in taste and texture based on the ingredients, but invariably they are dunked into a blend of soy sauce and wasabi, masking whatever flavors are present in the roll (eel sauce, Sriracha, spicy mayo, etc.). So, my first suggestion is to skip the wasabi/soy blend unless the roll you are eating is rather bland. You can always chase it with some pickled ginger strips as well.
OK, enough pontificating. We decided to skip the sushi/sashimi path and began with a couple of appetizers. First came an order of Gyoza (Japanese pot stickers) filled with a mixture of meat and vegetables, half-moon shaped and deep-fried. The Gyoza came with a Tempura dipping sauce consisting of sweetened rice wine vinegar and citrus, pliant on the palate and full of flavor.
Next, we opted for baked green mussels in their shells. They were bathed in a creamy sauce containing green onions and eel sauce and topped with a dollop of shredded crab and masago (fish roe). The presentation was attractive and the mussels were plump and impeccably fresh.
The albacore salad was an enormous portion of garden-fresh greens and vegetables including sliced cucumber, avocado, tomatoes (which could have been riper), and daikon radish threads. A generous portion of albacore sashimi was draped over the greens and the salad was tossed with a bit of sesame oil along with a bold garlic mustard dressing with a slight undercurrent of sweetness. A delicious and plentiful dish!
Yaki Soba is a buckwheat noodle dish, which we ordered with grilled chicken. The noodles are also tossed with sliced carrots, green bell peppers, zucchini and mild onions. This was a generously portioned main dish with a drift of sweetness throughout. Trying to eat the noodles with the chopsticks provided is a challenge, as they are slick and long. When you finally snatch them up, it takes some sterling eye/hand coordination to place them into your mouth. You can either give up and ask for a fork, slurp them up from the dish using the chopsticks as a pusher, or once you've got the noodles pinned between the chopsticks, use the fingers of your other hand to twirl the noodles around the chopsticks and devour them. This succulent dish is well worth the effort.
Now, we come to the rolls. First up was the Dragon Roll (eight pieces), unfortunately put together a bit haphazardly with uneven pieces. Each slice had eel and avocado on top while the interior had a mixture of shrimp tempura, crab, avocado and cucumber. Streaks of eel sauce graced the plate. Said pieces were difficult to bring to your mouth in their entirety using chopsticks, without dropping some of the ingredients en route. It's best to pick up each piece by hand.
No such transport issues ensued with the Sakura Roll (six pieces). Seared salmon was draped over pieces of spicy tuna tartar filled rice topped with masago. The plate was streaked with lines of spicy mayo, Sriracha sauce and eel sauce. Drift a piece through the various sauces before devouring each one. This beautiful presentation had an array of complimentary flavors and textures.
David Cohen is the former co-host of the PBS show "Table for Two."