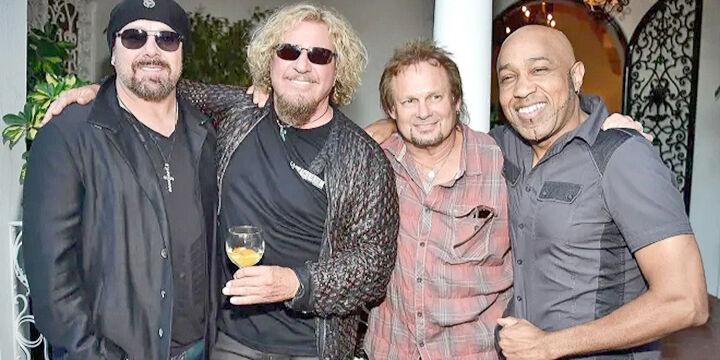 Sammy Hagar and the Circle is set to perform at Yaamavá Resort in Highland at 8 p.m. on Saturday, July 16. The luxury resort and casino opened in December as a rebrand of San Manuel Casino.
Sammy Hagar and the Circle is a supergroup formed by Hagar in 2014. The band features drummer Jason Bonham, son of Led Zeppelin drummer John Bonham, and former Van Halen bassist Micheal Anthony. The band released its first live album, "At Your Service" in 2015 and its first studio album "Space Between," in 2019. The band performs a range of music from originals to rock classics from Montrose, Van Halen, Sammy Hagar and the Wabos and Led Zeppelin.
Hagar, a member of the Rock-n-Roll Hall of Fame, is best known as the lead singer of Van Halen. He joined the band in 1985, replacing lead singer David Lee Roth.
The still-vibrant 74-year-old Hagar, also known as the Red Rocker because he often dons red pants and plays a red guitar, is from the Inland Empire. He was born and raised in Fontana, which he described in his memoir "Red: My Uncensored Life in Rock" as "hardscrabble." Hagar's father worked at Kaiser Steel. His son Sammy attended Fontana High School.
In 1964, Hagar snuck into Swing Auditorium in San Bernardino to see the U.S. debut of the Rolling Stones. Eventually, Hagar moved to Riverside and played with several bands and managed the music section of the ABC Store. Hagar later moved to San Francisco with his first wife, Betsy.
Hagar returned to Fontana with his wife and child in 1970. He claims to have seen a UFO sitting up in the Lytle Creek forest area. This experience led him to visit a psychic in Yucaipa who told him to move back to San Francisco to find fame.
In 2018, Hagar appeared in a Fontana Police Department video parody of Hagar's song "I Can't Drive 55."
Hagar has described The Circle's music as "American folk rock with a heavy edge." The Circle is touring the United States promoting its upcoming album, "Crazy Times."