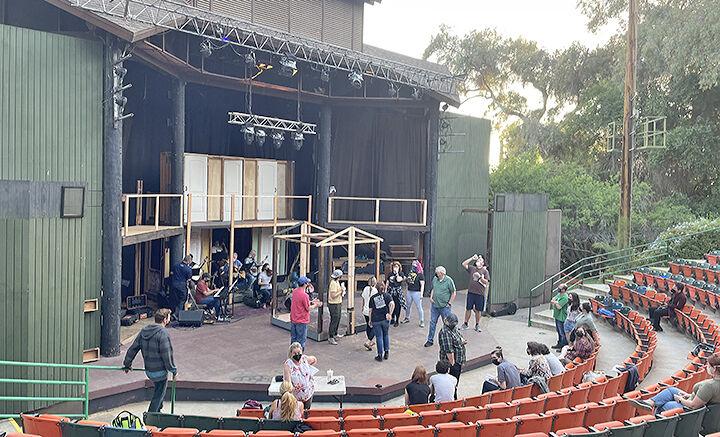 Redlands Theatre Festival (RTF) is gearing up for an exciting 50th season. RTF is part of a British tradition of rotating repertory system at the Prospect Park Amphitheater. It is the only of its kind in the Inland Empire.
This year, RTF has 80 company members putting on five different shows every week from June 17 until Aug. 6, and 80% of the members are new to RTF. It's a mix of mostly seasoned performers and a few novices, too.
"Everyone works on three of the shows either as a performer, a musician, a technician or any combination of those things," said Artistic Director Shannon Galuszka. She is the daughter of the founder of RTF and will be in one of the shows this year and directing two. Her sister Candice Stewart is also a director with RTF.
The uniqueness of repertoire theater is that you can watch a performance progress and evolve throughout the season. This year the RTF is offering an Unlimited Pass.
"You come and can recognize people in each of the shows and someone taking your ticket, weren't you in that show yesterday? It's something you don't get from other theaters," Galuszka said.
The theater includes people from all over the Inland Empire, from the desert to the mountains. There are high school and college students, teachers and professors and retired people.
"A little bit of everything," Galuszka said. The oldest performer is 80 years old.
With a two-year shutdown because of the pandemic, "We are taking precautions and leaving some seats in between parties," she said. "And we are watching the numbers all the time. We are adapting to what we see the trends being," she added, being careful of their crew and the audience.
"We don't know what to expect this year. We kind of went out on a high in 2019 and we are not expecting to come back at that," she said.
"The success part for us is getting everything open. Ideally, we would recover so that we can do it again next year and that's success for us."
This year, the season added an extra weekend in August. However, there will be no performances on Tuesdays this year.
"This is the first year, we've been dark on both Mondays and Tuesdays. But we know a lot of people like to enjoy the [Redlands] Bowl on Tuesdays," she said of the changes.
Every season includes one large Broadway musical, one small musical, a classic play, a contemporary drama or comedy, and a wild-card show. which is something new or experimental. The latter this season is "Life Sucks" by Aaron Posner.
"It's a modern adaptation of Chekhov's 'Uncle Vanya.' And it's pretty pertinent, it's pretty relatable in many ways right now," Galuzska noted. "At 'Life Sucks' they talk directly to the audience and the expectation is that the audience will contribute."
Galuszka said usually the best nights are Sundays.
"They tend to be more open," she said of the audience. "I love that."
"That's what 'Noises Off' is all about. It's a play within the play and you get to see what happens backstage and how these performers deteriorate over time," she laughed.
The RTF season this year doesn't really have any shows suitable for younger children.
"Teenagers would love 'Noises Off' and 'Something's Afoot.' 'Romeo and Juliet,' they are going to love this version of it, it's got music and a New Orleans-vibe," she said.
"We have a little acknowledgement on our opening night on the 17th [of June] but other than that we want to devote all of our time on the shows," she said.
A couple of speakers will come on opening night talking about RTF, "And our mark we've made on the community in the last 50 years," she said.
She cannot reveal who the speakers will be, only encourage people to come and see for themselves on opening night.
Shows return after two-year break
The Redlands Theatre Festival is a nonprofit, semi-professional, resident theater company featuring traditional, rotating repertory at the Prospect Park Amphitheater.
RTF is the oldest and only repertory theater in the Inland Empire and will celebrate its 50th season this summer. In 2020, Redlands Theatre Festival renamed its home amphitheater in Prospect Park after founder Cliff Cabanilla.
Where: In Prospect Park, 1170 Cajon St., Redlands.
Getting there: Take a complimentary tram ride to the theater beginning at 6:30 p.m. on show nights.
Tickets: Season tickets for all five shows, $95. Unlimited season pass: $149. Wednesday night performances, $16. Thursday through Sunday night performances, $21. Order tickets online at RTFtickets.com or by email at shannon@RTFseason.com, or buy tickets in person between 6 and 9 p.m. Wednesday through Friday or call the box office (909) 792-0562..
Performance nights: Arrive as early as 6:30 p.m. Shows begins at 8:30 pm.
For more information: Visit rtfseason.com.