Maestro Frank Paul Fetta, artistic director of symphonic programming for the Redlands Bowl, died Oct. 21, 2021 after a long illness. He will long be remembered for his warmth and creativity, which transcended to Redlands Bowl audiences and everyone he worked with.
He made his debut at the Redlands Bowl 42 years ago in 1979, producing and conducting the opera "Romeo and Juliet." He became the conductor and director for the Redlands Bowl Symphony Orchestra and accompanist for visiting artists in 1985.
Fetta conducted scores of symphonic performances and produced and directed many fully-staged operas at the bowl. He oversaw the transition of the bowl's acclaimed Young Artists Competition to a full concerto competition format.
Although his health prevented him from conducting last summer's Bowl Finale, he provided vision and creative leadership for the season's final performance, "From the Heart," featuring Lana Love and the Cool Classics Ensemble.
At the finale, Beverly Noerr, executive director of Redlands Bowl Performing Arts, announced that Frank had been named the 2021-22 Hero of the Arts, the highest award bestowed upon an individual by the association.
"I cannot adequately express Frank's influence at the Redlands Bowl and how much we will miss him," said Noerr. "He was one of the first artists I met when I came to the bowl, and I liked him instantly. He was fun, creative and unique. My family and I will miss him dearly."
Kristi Marnell, operations director for Redlands Performing Arts, said, "One remarkable thing about Frank was his youthful spirit. He was such a gifted musician, always able to reach his audience, young or old, as he shared his knowledge. For me, it was his stories from the bowl stage and his engaging laughter I will never forget."
Program Director Valerie Peister, said, "This is such a profound loss for the Redlands Bowl. Frank loved the bowl, and he loved bringing the joy of music to all of us who gathered with him under the stars. I was honored to work with him and am so grateful for the many amazing years we had with him. His friendship will be deeply missed."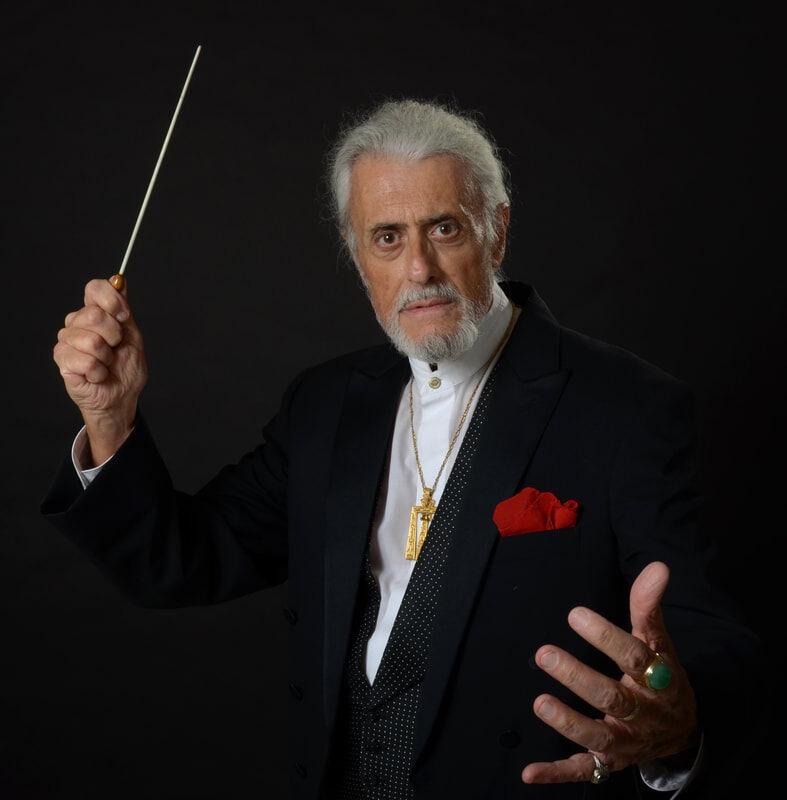 In addition to Maestro Fetta's tenure at the Redlands Bowl, he was director/conductor for the Culver City Symphony, the Torrance Symphony, and the Marina Del Rey Symphony. In 2012 he was named conductor and artistic director of the San Bernardino Symphony.
He was also the principal conductor of the Nevada Opera Theatre and enjoyed a long tenure as a conductor for the grand finals of the prestigious Zachary Foundation International Vocal Competition.
As a conductor, Fetta collaborated with:
Sinfonia Mexicana.
The Los Angeles Opera.
The Riverside Symphony.
Inland Dance Theatre.
Fresno Ballet, Symphony and Opera.
State Street Ballet of Santa Barbara.
The Pasadena Symphony.
Opera A La Carte.
The Toledo Opera.
And the San Diego Symphony.
Among the fine artists he conducted are Julian Lloyd Weber, Judy Collins, Louis Lebherz, Suzanna Guzman, Eugene Fodor, Leila Josefowicz, Diane Schuur, Daniel Rodriguez, Lorna Luft, Vicki Carr, and Eduardo Villa.
Growing up in New Jersey, Frank Fetta's early passion for music led him to piano and organ. He coached, accompanied and guided the careers of numerous vocalists and instrumentalists.
Living in Los Angeles, he served for many years as the organist at Corpus Christi Church in Pacific Palisades.
Now an important and bright star in Redlands history, Maestro Frank Paul Fetta's artistic spirit will continue to shine over the Redlands Bowl Music Festivals… especially the season finales.