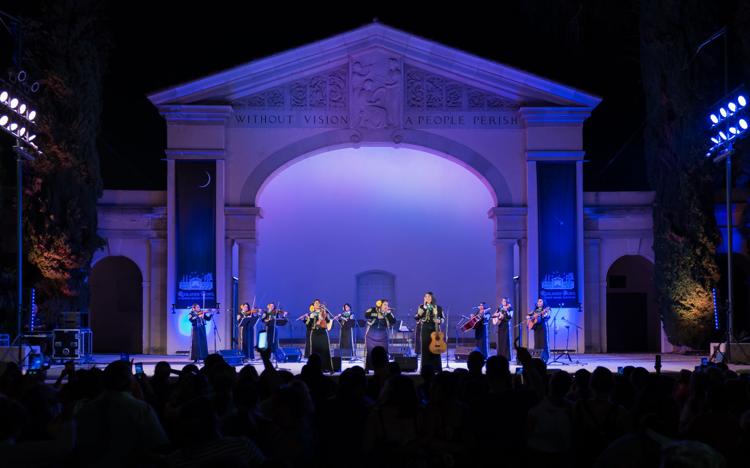 Redlands Bowl Performing Arts will present the Mariachi Divas de Cindy Shea performance from 2019 on its Facebook page and YouTube Channel from 8 to 9 p.m. tonight, Friday, May 1.
The watch party of a show broadcast last year by KVCR television will feature an introduction by Operations Director Kristi Marnell with "lead diva" Cindy Shea.
"Get ready for behind-the-scenes commentary and have a fun time reliving these great Redlands Bowl moments," says a press release.
Go to Facebook and type in Redlands Bowl to find the broadcast. The YouTube channel can be found at redlandsbowl.org.
Beverly Noerr, executive director of Redlands Bowl Performing Arts, said last month that it hasn't been decided if the Summer Music Festival will begin as scheduled on June 19 with a concert featuring the Redlands Symphony feature Debby Boone. Programs could be presented in the fall after coronavirus restrictions are lifted.
Meanwhile, several Friday night watch parties are scheduled. A broadcast of Skerryvore's 2019 performance will be presented at 8 p.m. Friday, May 8. Skerryvore is a Scottish Celtic rock group.
At 8 p.m. Friday, May 15, Gilbert & Sullivan favorites featuring the New York Gilbert & Sullivan Players will be presented. 
Children's programming will be presented at 10 a.m. Saturdays starting with a performance by the Kalama Brothers. Other Saturday shows will be announced soon. Ryan Keau and  Kai Kalama grew up in Southern California and honor their Hawaiian eritage and sharing it through their music, according to their Facebook page.