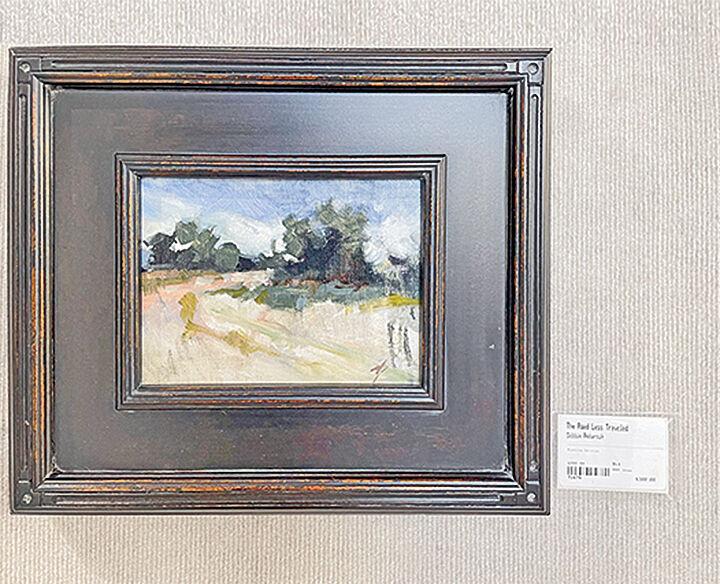 The Redlands Art Association's gallery spent a week to empty their shelves and walls for the biggest art show of the year, The 54th Multi Media Mini Show (The MMM Show). Ninety-one artists submitted 223 pieces of artworks of which every single piece followed the guidelines of being 14½ inches on all sides. The MMM Show include both 2D and 3D art that can be viewed until Tuesday, March 14.
The MMM Show invited non-members of the gallery to enter the juried show, a unique opportunity for any artist of which seven took the chance.
Abstract artist and gallery owner Elizabeth Carr from Claremont juried the show. After 25 years in the computer science field, she started to take art classes, was a member of the Redlands Art Association and eventually opened her own art studio, Studio C in Claremont where she curates monthly shows.
First place: "The Road Less Traveled" oil painting by Deborah Pekarcik from Running Springs.…
Even though the gallery had hoped for more entries, The MMM Show of 2023 has many high-quality pieces of artwork. "I'm happy with it. We filled up the walls," said Sandy Davies with enthusiasm. She is the event coordinator at Redlands Art Association (RAA).
Before the public got the chance to see the show, purchase award patrons were invited to get first pick. "Those are people who have pledged to buy art even without seeing the show," Davies said. Sold art pieces stay during the duration of the show.
Many artists decided to enter abstract art this year and 3D art was also a popular medium. "I think we had more ceramics this year than we usually have," said Davies.
About 40 art pieces were not accepted into the juried show. Davies explains to disappointed artists, "It's all up to the judge and if she doesn't like it, that doesn't mean it's a terrible piece because next year if you enter the same piece, it might be accepted. It just depends on the jurist."
"[Elizabeth Carr] was really surprised with the variety of the art; how creative and how diverse the art was. Her gallery doesn't take 3D pieces, so she was surprised at how varied it all was," Davies said of when Carr juried the show and visited RAA.
"I was taught, as an artist, that one of the most important things is composition. When I chose the awards for the show the first thing, I looked for was strong composition. As an abstract painter I always look for good contrast, balance, division of space and repetition of shapes," wrote Carr in her statement for the show. "It also helps if the painting has some heart," she added.
A total of $1,800 worth in a variety of prizes were handed out to the winners of the show. First place winner was Deborah Pekarcik with her oil painting called "The Road Less Traveled" which received a cash prize of $400.