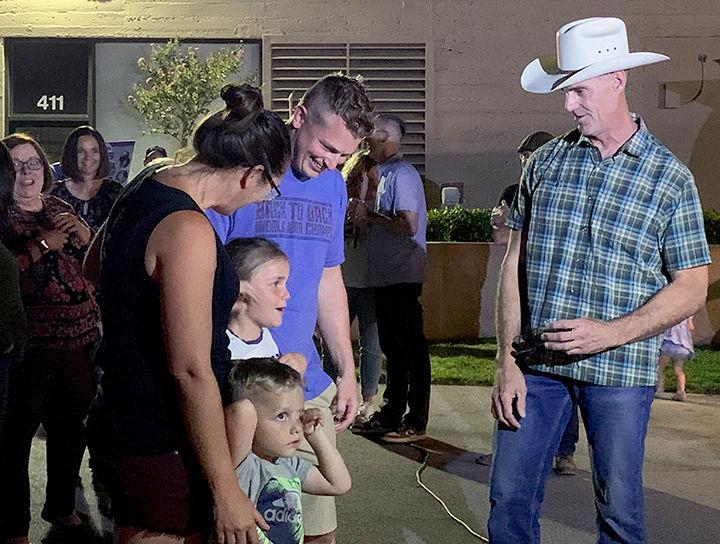 Redlands' own little antique shop, The Red Rooster Vintage, is being featured on the DIY Network show "Restored."
The shop hosted a viewing party Wednesday, July 10, at its location on Orange Street, complete with food, drinks, an auction and Q&A with "Restored" host Brett Waterman.
In the episode, Waterman restores a Spanish Colonial farmhouse in Fontana. He stops by Red Rooster Vintage to pick up items to add charm to the home.
There was a good-sized crowd to kick off the event as sangria, lemonade, cakes and cookies filled tables inside the shop, while outside in the parking lot there were tacos being served, and horchata and agua frescas being sipped.
More than a 100 people came and posted their folding chairs to watch the premiere and listen to Waterman speak.
Dressed in his signature white cowboy hat, Waterman told the crowd he is now living in Redlands. He says the Inland Empire has captured his heart.
"The Inland Empire has a tendency to be shuffled off and forgotten about...until people actually come and see what it has to offer. I hope our show brings awareness to the area."
The show's home cities are Redlands and Riverside, where the "Restored" group does most  of its filming, though Season 3 also will feature Fontana and Cherry Valley as well.
What are some qualities Waterman looks for in the houses he chooses to restore? The answers are simpler than one would think.
"We look at architecture and if the homeowners can communicate well about what they want. They also need to be people we feel viewers can relate to."   
The "Restored" team features multiple styles of houses on their show, including Victorian, ranch, and houses built in the era of the 1960s and '70s.  
What sparked Waterman's interest in the restoration? It all started when he was a boy, spending time at his family's farm in Tulsa, Oklahoma.
"When I was about 7 or 8 years old, I saw an old dairy farm with magnificent silos. Years later, when I was a teenager, the farm began looking run down and I told my grandparents that one day I was going to restore it. My interest from there kept going. In college at UCLA, I even restored our old fraternity house."
Waterman says he likes breathing new life into the old and historic.
"I am a fixer in my soul."
His favorite style of house to restore is Romanesque, an architectural style of medieval Europe,  which falls in the middle of the Victorian era.
Waterman is good at what he does, so good his show "Restored" is played in homes around the world. The DIY Network is global, "Restored" is shown in countries such as Germany and New Zealand.
Visitors certainly enjoyed their night with the Red Rooster Vintage crew and Waterman. The show host walked around the crowd, smiling for photos, engaging and laughing with viewers who were excited to meet the restoration man in person.
Waterman even conducted a live Facebook feed, where he showed just how big the Redlands crowd was to people tuning in around the world.