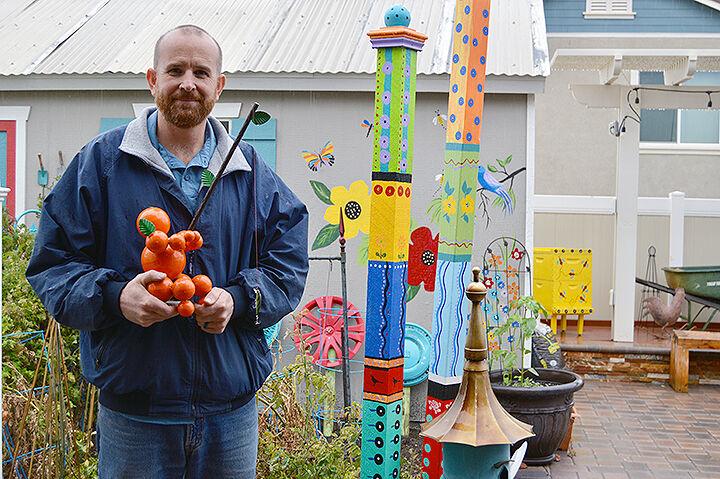 After metal oranges began to adorn State Street and beyond, orange men can be seen throughout town.
Back in 2014, when employees of the Redlands Facilities and Community Services Department were bouncing around ideas on how to decorate the planters lining the sidewalks in downtown Redlands, Assistant Director Tim Sullivan asked, "Why don't we just put a metal orange on top?"
The idea seemed suitable enough for a city that was once known only for its fragrant orange groves. So they did. "We started with 36 metal oranges along the shops on State Street," said Sullivan, who explained that it took about 260 to finish lining that entire street.
A couple years later, when the Orange Street alley was being built, the department again was having a similar conversation.
This time, it centered around how to create a design concept in the alley that would lend itself to the display of public art, be it for art shows or personal expression -- a concept that can be seen in alleys in different cities around the country and the world.
Given the success of the steel oranges, it wasn't surprising that his input would be sought.
"I was 'volun-told' that I had to do it," Sullivan joked. So he did, and thus were born the first three "orange men" in 2017. All were placed in the alley, along with other artistic works, such as the mural and umbrellas, all true to the idea of making it this kind of exhibit. (After new shops and restaurants settled in, one of the original orange men was moved, leaving two in the alley.)
"The idea behind the orange man was to create something fun, in motion and that highlights what the city of Redlands has to offer," said Sullivan.
It's a lot more than just proximity to the mountains and beaches, in his mind. The city itself offers a rich history and an unparalleled dedication to community service from its residents.
Now, with about eight orange men and counting, all strategically placed around the city, Sullivan says that he gets lots of requests to create new ones, a process that takes anywhere from five to 10 hours.
First, Sullivan must decide what motion the orange man will be engaged in. Then, different metal spheres are welded together into that target position and the piece is built out of steel. Last, it is powder coated in orange and green by C & S Powder Coating, which either donates the materials and service or reduces the cost.
Park employees Phil Buyak and Jesse Morris then build the stands and do all the masonry work to install them.
"I think the community really likes them," said Buyak. "It's exciting and out of the norm because it becomes a landmark after I install one."
Buyak says that a citywide scavenger hunt would be fun given how frequently he's asked for a list of locations to find them.
Dubbed after whatever activity it is doing, each orange man can be found at locations that are reflective of life in Redlands. There's the biker, dog walker and skater. There's also one sitting on a rock next to a fork sculpture (which Sullivan also made) by the fork in the road at Prospect Park.
According to Sullivan, an orange man is even part of the popular Pokémon Go game, the augmented reality mobile game that uses the device's GPS to find Pokémon in real-world locations.
Though the city buys the materials for city projects, Sullivan donates his time and talent. "It's my contribution to the city."
A few local businesses and organizations have also received one, including his dentist's office and Redlands Family Services, where one was auctioned for a record amount during Dinner in the Grove.
But his favorite, a fisherman orange man, is fishing in a pond in a very special place: his parent's backyard.
"I credit my mom [Cindy] for passing on her artistic talent and my dad [Mike] for the mechanical side," said Sullivan, who studied automotive welding and machining at San Bernardino Valley College and Citrus College.
In turn, his father credits him for creating a masterpiece that has become a fixture of the Redlands' art scene.
"They are everywhere," Mike said.
Orange men are everywhere