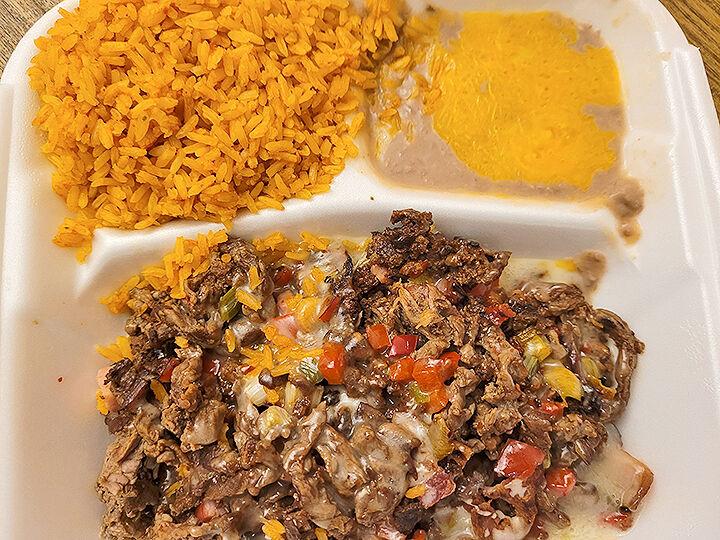 It has been more than 20 years since I first reviewed O'Campo's in Yucaipa, and the menu hasn't changed significantly since then. There are a few dishes from Mexico City as well as a wide array of items from all over Mexico.
We started with a tender carne asada torta (round sandwich) topped with unexpected (and unwanted) slices of jalapeño pepper in a roll drenched in red sauce, which while delicious, made the bread rather soggy, such that it was difficult to pick up the sandwich without it falling apart. My suggestion is to eat the torta with a fork.
The shrimp in chipotle sauce was both fiery and smoky, given the abundance of smoked jalapeños in the sauce. The shrimp were plump and succulent. A small container of sour cream accompanying the dish helps to tamp down the heat when you add a dollop.
The chicken en mole, a family recipe, contains roasted chiles, nuts, seeds and assorted spices. While we were told it was a red mole, it was dark enough to be a mole poblano. In any event, the chicken was tender and the sauce rich and complex with a slowly building heat.
Then came two dishes from Mexico City. The huarache is a grilled oblong thick corn tortilla topped with refried beans infused with an abundance of garlic, onions, chopped tomatoes, grated white cheese and chopped cactus (nopalitos), along with a green salsa that added a nice kick to the overall flavor profile.
Finally, there's the alambre, which reminds me of Joe's Special in San Francisco minus the eggs plus other ingredients. It's an amalgam of ham, bacon, house-made chorizo and carne asada along with diced red peppers and melted cheese — delicious to boot! It comes with sautéed rice and refried beans.
David Cohen is the former co-host of "Table for Two" on PBS.
O'Campo's Restaurant
Where: 34048 County Line Road, Yucaipa.
Hours: 11 a.m. to 8 p.m. Tuesday through Friday, 9 a.m. to 8 p.m. Saturday and Sunday.
Prices: Breakfast $6.75 to $11.75, seafood $8.45 to $14.99, appetizers $5.25 to $11.95, tortas $7.75 to $8.45, entrées $6.95 to $13.75. Lunch specials available from 10 a.m. to 3 p.m. Monday through Friday $8.75. Kids menu available. Lunch specials $8.75.
For more information: Visit facebook.com/ocampos.restaurant?checkpoint_src=any or call (909) 795-3076.