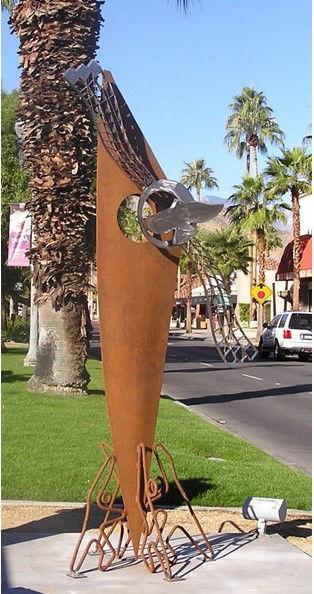 Installation of a new public art piece by Yucca Valley artist Steven L. Rieman will take place at 10:30 a.m. Tuesday, June 30.
Constructed in 2008 from a combination of stainless and weathered steel, "Mojave Sails" depicts four people at the base of the sculpture, raising and supporting the sail, which has a kinetic element in the shape of a bird at the top.
The sculpture, which stands 10 feet tall, was previously on display along El Paseo in the city of Palm Desert.
In May 2019, the Redlands Cultural Arts Commission selected "Mojave Sails" for temporary display for two years in the city of Redlands. The recommendation was approved by the City Council on July 16, 2019. A site along the median in the 300 block of Brookside Avenue was selected by the artist.
The $2,000 cost to display the piece comes from donations intended for public art in the city.