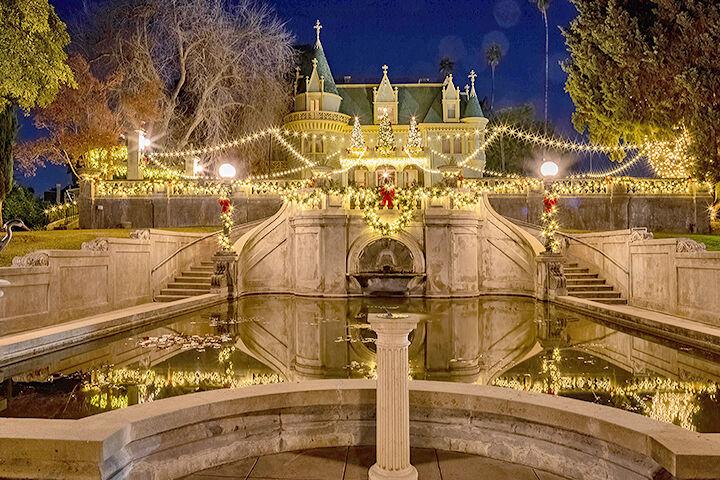 Redlands does Christmas well. From the lights and oversized Christmas tree downtown to the Holiday Home Tour and Boutique to the professional decorations seen at the older homes and open to the public, there is no shortage of holiday delights.
Add a Victorian-style home, with decorations befitting the bygone era of the genteel time, and there's one more stop on a list of Redlands' must-see attractions.
Kimberly Crest, tucked into the orange groves surrounding Prospect Park, has undergone a winter transformation, complete with lights and decorations stretching from the home to the encompassing Italian gardens and beyond.
Three Christmas trees, carefully spaced above the French doors that once led to the gardens welcome those who have come for a guided tour. Small bulbs wind around the sidewalk lights, the fountain nearby holding the reflection. A wreath stands guard, watching the softened mirror images.
Before her death, Mary Kimberly Shirk challenged the city of Redlands to raise the funds to …
Nutcracker pieces stand as sentries, observing the comings and goings of those wishing to see the twinkling lights interspersed in the trees and carefully woven through the replicated redwood posts along the patio.
Inside, new decorations sit alongside décor from the Victorian era. Christmas trees stand alongside mirrors that have been in the home since it was built in 1896 while red bows line the grand staircase. Ornaments, both traditional and as part of larger collections, look at home on the mantel and throughout the main floor.
A small room off to the side of the stairs once used for musicians as they brightened up a gathering, looks to be ready to welcome family into the area, ready for Christmas morning. Poinsettias, a symbol of Christmas since the late 1700s, dot the landing.
In the bedrooms, the decorations are a bit more subdued, with a light pink motif setting the tone in one room, while the office on the second floor has a few gifts carefully placed near the tree.
A nativity scene sits atop a desk once used by Mary Kimberly Shirk as she ran her philanthropic endeavors from her home.
The home, built in 1896, has had only three owners, all women. Widow Cornelia Hill spent her winters in Redlands, and when she tired of hotels and boarding houses, had the home built.
Nine years later, she sold it to John Alfred and Helen Cheney Kimberly, who never put Mr. Kimberly's name on the title. Toward the end of their lives, the home was willed to their youngest daughter, Mary Kimberly Shirk, in appreciation for her taking care of them in their later years.