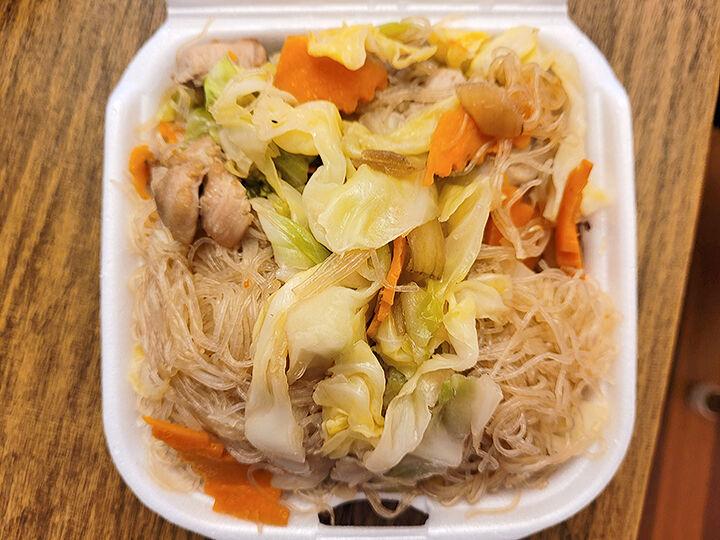 Welcome to Filipino food, one of the most pork-intensive cuisines in the world. They also enjoy virtually every part of the pig, from the ear to the intestine. However, don't despair if you don't eat pork, since chicken, beef and noodle dishes also play a significant role. For the adventurous eaters amongst you, this is pig heaven.
The restaurant is mainly take-out with a few tables inside. The available dishes change every day and there is a wide enough assortment of items to please every palate. To give you a sense of what you might encounter, I sampled more than the usual number of dishes to showcase a wide array of both unfamiliar and more recognizable items from which to choose. Keep in mind that not all items are offered on a given day.
You might want to begin with Bopis — very tender cubes of pork meat and chopped red bell peppers in a tamarind-based sour sauce topped with crunchy chopped pig ears as a garnish.
For the truly adventurous eater, Sisig may be one of your favorites. All parts of the pig's face are served sizzling, having been cooked on a hot stone plate, and may include brain. Fish sauce adds some umami flavor to this distinctive dish, along with onions and chili peppers.
Getting back to some less avant-garde items, Pork picadillo is a combination of diced potatoes, ground pork and chopped red bell peppers and carrots, reminiscent of the Cuban dish Picadillo. Another more familiar dish served as an appetizer is fried lumpi —thin egg rolls filled with beef and vegetables served with a sweet and sour dipping sauce.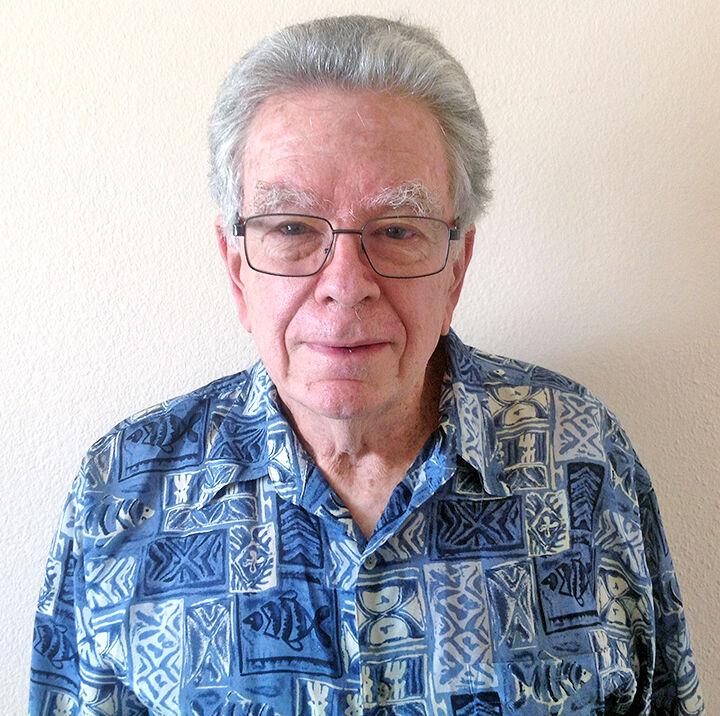 One of the most delicious and recognizable Filipino dishes is Lechon Kawali. Pork belly is cooked in boiling water with bay leaves, peppercorns and salt. It's then dried, salted and deep-fried until golden brown, resulting in a perfect crackling skin and exceedingly tender meat. It's served in a spicy vinegar sauce to cut through the richness.
For you non-pork eaters, Pancit makes for a perfect entrée. Thin glass noodles are tossed with carrots, cabbage and chicken meat and served in a sweet thick sauce — a very satisfying one dish meal.
Another classic Filipino dish is chicken or pork Adobo. Served in a soy/vinegar sauce flavored with black pepper, garlic and bay leaves, the meat is exceedingly tender.
Returning to the more adventurous side of Filipino cuisine, there's Kare-Kare, a blend of tripe (stomach), oxtail and vegetables in a thick rich peanut sauce, often accompanied by fermented shrimp paste — a delicious amalgam of both the familiar and the unfamiliar.
Beef Kaldereta is a stew of tender cubes of beef, olives, carrots, green bell peppers and potatoes served in a tomato sauce blended with liver paste--a hearty and delicious dish.
Chicken Afritada is a blend of mixed vegetables (carrots, red bell peppers, baby corn, mushroom slices, mini hard boiled eggs and tender chicken — an item all meat eaters can enjoy.
And finally, there is dinuguan, which is certainly not for the faint hearted. It consists of pork and its innards cooked in a blackish brown sauce made from pig's blood and vinegar. The blood forms into cubes and imparts a rich, irony flavor to the overall dish. This is one of those dishes that you either love or hate.
For the adventurous eater, this is culinary nirvana. Sorry vegetarians, this is a meat-focused menu, so your available choices are limited.
Hopefully, this culinary dissertation will provide a road map through one of the world's most distinctive and hearty cuisines.
David Cohen is the former co-host of the PBS show "Table for Two."
Manila Wok & Grill
Where: 7337 East Ave., Fontana
Hours: 10 a.m. to 6 p.m. Tuesday through Friday, 9 a.m. to 4 p.m. Saturdays and 9 a.m. to 3 p.m. Sundays.
Prices: $3.50 to $19.99. Most entrées are less than $10.
Details: Limited indoor seating, mostly take-out. Catering available.
For more information: Visit manilawokandgrill.com or call (909) 899-5588.