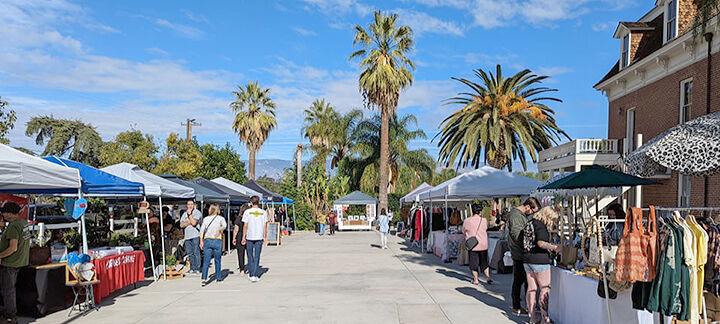 Redlands Makers Market hosted its first event in its new, more-permanent location, outside the historic Barton Villa on Nevada Street on Sunday, Jan 16. Previously the monthly market which features local makers and vintage vendors, took place at various locations including Escape Craft Brewery and Ed Hales Park, during which they partnered with local nonprofit Stronger Together Now IE.
This month more than 30 vendors showcased their goods, including Cranes Ceiche, Propagated Perfection plants, Wild Joy Jewelry, and Frost Paws Dog Bakery.
Founders Stephanie Mittelbuscher and Nicole Spaulding, who have been friends since they were teenagers in Riverside, hosted the first Redlands Makers Market in September 2020 in the front yard of Mittelbuscher, who sells vintage clothing and makes hand-poured candles.
Six vendors participated, all friends of Mittelbuscher and Spaulding. Soon they were up to 12. As they started making connections with other local makers, they outgrew the space.
"During the pandemic, so many people had it so hard," Spaulding, who makes hand-dyed textiles, said. "We wanted an event to come together and support each other. It's a cool little community we've built."
Spaulding and Mittelbusch are thrilled with their new home at Barton Villa.
"We love it. It's beautiful. It's big," Spaulding said, gesturing toward the building's curving parking lot. The pair hopes the event will grow.
Vendors were also happy with the event. Jasmine Nyirady of Loma Linda was there vending with Space Beads jewelry, which features zodiac charms, crystals and beads.
"I love jewelry and accessorizing myself and expressing myself in different ways," Nyirady said. "It makes me happy to see other people wearing my stuff. It makes me happy to see other people happy."
Dr. Benjamin Barton built the Barton House in 1866 after he purchased the land from the earliest Mormon settlers in the region. It was the first fired brick building in Redlands and second in the county, and is on the National Registry of Historic Places. Current owners Dr. Terry & Geneil Vines purchased and restored the building in the 2000s.
This is the first small business market the space has hosted.
"We love being able to offer this little piece of Redlands history for events like these," said Jessica Ducsay, venue assistant at the villa.
"Not only does Redlands Makers Market help promote the venue, but we are really just happy to support these local artists and makers, and give them a space to sell their goods."
The next Market will take place Sunday, Feb. 13th from 9am to 3pm. Parking is available from the North entrance to the venue and further down Nevada Street toward Heritage Park.
Interested vendors can visit https://linktr.ee/redlandsmakersmarket or email RedlandsMakersMarket@gmail.com.