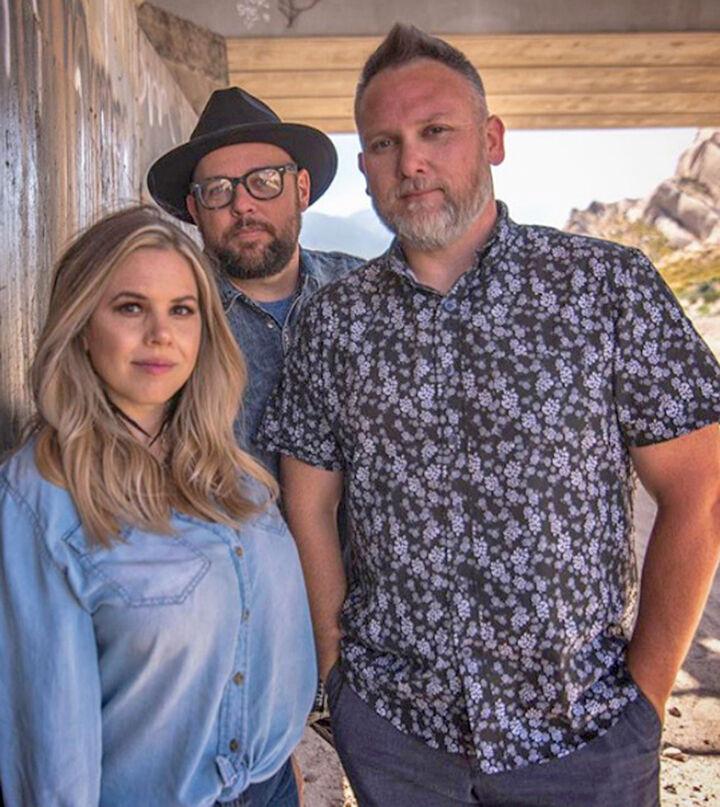 Last week, Redlands country music band The Joy Reunion performed on the NBC show "The Voice" vying for the attention of the superstar coaches.
The band delivered a convincing rendition of Little Big Town's "Boondocks" as part of the blind auditions on episode four of the 21st season of "The Voice" in front of a live, fully vaccinated audience. Coaches Blake Shelton and John Legend quickly turned their chairs for the band who chose Shelton to be their coach for the season.
The Joy Reunion consists of Robert Easley, who grew up in Redlands. Gentry Monreal came to Redlands 20 years ago from Lake Arrowhead and Neal Morrison, who arrived in 1999 when he studied at the University of Redlands.
For the past 22 years Monreal and Easley have been part of the worship leader team at the Packinghouse Church in Redlands, which Morrison joined in 2008.
They said the open mic scene in Redlands has helped them create connections and has been an outlet to play their music and receive support from fellow artists and singer-song writers.
"Community is the only way you can progress," Morrison said.
"We weren't used to fellow musicians being so kind and welcoming and encouraging," Easley said. "So, it was at open mic nights we knew we had something."
Hangar 24 has been one of their biggest supporters from early on.
"I've been working on this for probably four years, promoting this group we're doing, and we've never seen the amount of support that we got after our episode aired," Easley said. Local online support has been flooding in.
"I think we have like 700 shares," he said. "That's crazy and we're so honored by that."
In January, "The Voice" casting department reached out via e-mail to The Joy Reunion after finding them on Instagram.
"We thought it was spam," Morrison laughed. But the band decided to reply. Out of 40,000 auditions, they were one of the 48 chosen for a team.
Morrison plays guitar, piano and bass while Easley plays the guitar, bass and drums. Monreal plays the guitar and all three of them sing. The band produces and records their own music and videos. They are all self-taught musicians who have played for decades.
"We made a conscious effort through this whole process to be present," Morrison said.
He thinks them being a bit older than most can be an advantage on the show.
Their introduction on the episode from Sept. 27 explained how they each pursued music on their own for many years. Together is where the magic happened.
"The whole point of the band is it's called The Joy Reunion. It's just being reunited with the joy of making music. We're not striving, we're not trying to be anything, we're just enjoying writing music together," Morrison said. "This past week, I woke up every day like pinching myself. Our dream is actually happening right now."
"We love Blake. We have so much respect for him. It's such an honor," Monreal said of their coach.
They described him as hanging with a good friend.
"Can I just say, for the record. I'm 6-foot-1, OK? And when I stood by Blake Shelton, I felt tiny. I felt like a little kid when he gave me a hug,"
Easley added, "He really does have a gleam in his eye."
The combined families of The Joy Reunion gathered at Morrison's house in Redlands to watch the audition live from afar.
"For them to see what happens in the moment and share in our excitement is so cool," Monreal said. "It's actually my favorite part of watching our blind episode."
Her three kids pushed her to do the show.
"Without our families this wouldn't be possible," Easley added.
Tune in at 8 p.m. Monday and Tuesday nights on NBC to watch to see how they fare.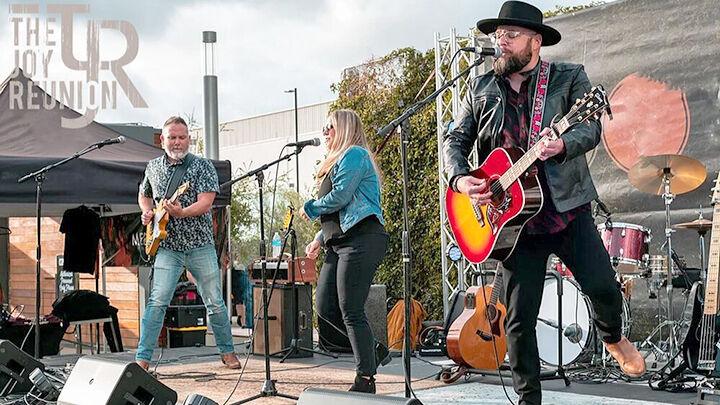 About The Joy Reunion
Website: thejoyreunion.com
Social media: 'thejoyreunion' on Instagram and Facebook.
Music by The Joy Reunion available on: YouTube, Apple Music, Spotify and Amazon.
Watch the blind audition on YouTube: youtube/vwESZwQOyMY
'The Voice' on NBC
"The Voice" is in its 21st season.
Coaches: Ariana Grande, Kelly Clarkson, John Legend and Blake Shelton. The coaches try to get their chosen artists to the finale.
Steps to success: The artists go through Blind Auditions, Battle Rounds, Knockouts and Live Performance Shows while trying not to get eliminated. Carson Daly is the host.
The winner: Will be named "The Voice" and will receive a grand prize of a recording contract.