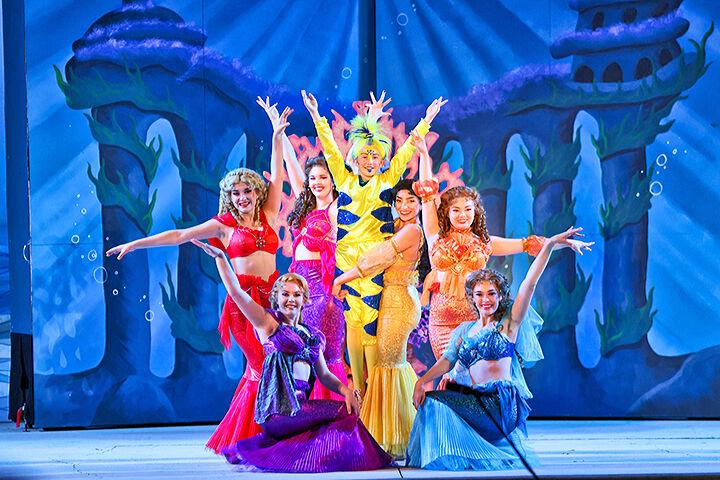 Magic. Pure magic. Director Wayne Scott and the cast and crew of Disney's "The Little Mermaid" invited magic to the Redlands Bowl in the Redlands Bowl Summer Music Festival's rendition of the beloved musical and the magic came.
In a show that could be transported to Broadway, the cast brought Ariel, Eric, Sebastian, King Triton and Ursula to life in a performance that entranced the audience. Clear voices, perfectly choreographed dance numbers and comic relief contributed to the allure. Outstanding costumes and remarkable set design are a testament to the ability of the Redlands community, and the surrounding areas, that the Summer Music Festival holds its own.  
While the public dress rehearsal was only the fourth time the cast and crew had been able to practice at the bowl, the dedication behind the production was clear. A live orchestra, gathered and led by conductor Nolan Livesay, added depth and the choreography by Michael Milligan made tap dancing seagulls look great.
In the familiar tale, Ariel, played by Hilary Maiberger, falls in love with a prince, Eric (Zac Swan Van Lent) and must convince her father, King Triton (Pierre Van der Westhulzen) that this is what she really wants, while battling her father's sister Ursula, played by local teacher and actress Debbie Prutsman.
While the end stayed the same, the journey differed a little from the animated Disney movie. More storytelling and back story allowed for a bit more creativity in the songs and dances and many familiar songs and dialogue remained, but some songs were unfamiliar and the bad ocean puns kept adults laughing.
Lauren McKinney and her husband Caleb moved to Loma Linda about three years ago and were told by Caleb's father that they needed to attend the bowl performances, as he had when he was a medical student years ago. They have since made it to nearly every performance available, but "this one is my favorite show," said Caleb. "Everyone loves a good Disney villain" and Prutsman's Ursala was a great one to watch. They also love how the audience is free to cheer, clap and lose themselves in the fun.  
Parents brought young children and families, teenagers came with friends, and couples used the evening as an inexpensive date and chance to get out of the house.
The community has gotten used to the stellar quality of the shows the Redlands Bowl Performing Arts Association has procured, and "The Little Mermaid" is no exception. It may even raise the high bar to even greater heights.
Sponsor: The Physicians of Beaver Medical Group