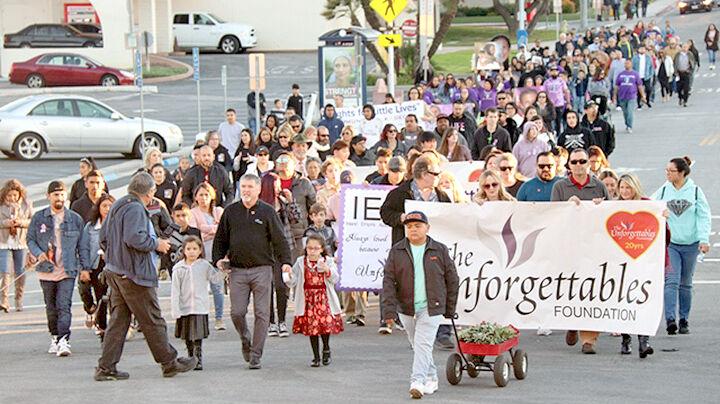 The Unforgettables Foundation will host its annual Lights for Little Lives memorial ceremony and walk at 3:30 p.m Saturday, Dec. 31. This New Years Eve they will continue the spiritually uplifting family event and tradition in its 22nd year. The event starts in the parking lot of Ronald McDonald House 11365 Anderson St., Loma Linda and finishes at Campus Hill Church 11057 Hill St., Loma Linda. The walk and ceremony to memorialize children who have died began on Dec. 31, 2000.
The goal of Lights for Little Lives is to remember all children who have lost their lives.
For their families who have financial constraints, the nonprofit organization provides aid to ensure a dignified burial. The state of the economy has increased the amount of people who need help, so the demand is up quite substantially with the organization citing a nearly 50% increase in 2022 for requested assistance.
The event has three parts beginning with the pledge of allegiance, a prayer, and a symbolic dove release by mothers who have lost their child.
The doves are donated by Carol Adams from White Wing Ceremony Company.
"As they're releasing this dove it is as if they are releasing their child; it is part of the healing process," said Tim Evans founder of The Unforgettables Foundation based in Redlands and serving all of North America.
A dove release serves as solemn salute for Native American children who have died in anonymity. Last year Assemblyman James C. Ramos released this special dove.
Bachelor and Bachelorette fundraiser: From 6 to 9 p.m. Thursday, Jan. 26, the Unforgettable …
"It is a very moving, very emotional part of the ceremony," said Monique Guerrero, who is office and operations manager for The Unforgettables and has been attending this event since 2019, adding that she gets choked up even just thinking about it.
The walk is led by Loma Linda fire and police as the procession goes down Anderson Street in Loma Linda to Campus Hill Church, a three-block, half-mile walk.
The walk will see participants who include Boy Scouts, families, TopDocs physicians, funeral professionals, volunteers and faith community leaders.
At the church, there will be a 45-minute ceremony where candles will be lit and names will be read aloud. The event is free and open to the public.
Unforgettables founder Tim Evans said, "One of our main missions is to help parents and families to keep their child's name alive."
The annual event aims to give parents a safe place where they can say their child's name and have discussions with others about their child. Evans explained that in reality it is a difficult subject that many people are uncomfortable listening to. However, parents want and need to talk about their child and this event is a way for them to speak their name for years to come.
Attendance fluctuates between 200 to 250 attendees and has seen up to 400 at a Lights for Little Lives walk.
Weather conditions have an impact on attendance, and during the COVID-19 pandemic the ceremony had been held virtually. In 2021, the event was modified to omit the walk and hold the ceremony outside.
"Are people going to forget about my baby?" was a question that Evans heard all too often by mothers during his time as the chaplain for the children's hospital at Loma Linda. He said that very question is partially why he named the charity The Unforgettables.
Since its founding, The Unforgettables Foundation has assisted over 7,000 families with money and emotional support, according to Evans.
Local hospitals including Riverside, Redlands, and San Bernardino community hospitals have directed many of those in need to the nonprofit organization.
Evans established the foundation in 1999. Through his work as a clinical minister to children and their families, he has witnessed the crisis faced by those experiencing the death of a child in addition to the financial burden of burial costs.
A well-known DIY resource website, eHOW identified the foundation as the first nonprofit organization in the U.S. to take on the crisis for aiding families struggling with child burial expenses.
In 2023 the organization will host a wide range of fundraising events.
"We've always tried to do very positive and unique events to counterbalance the depressing nature of our cause," said Evans of the active fundraising events.