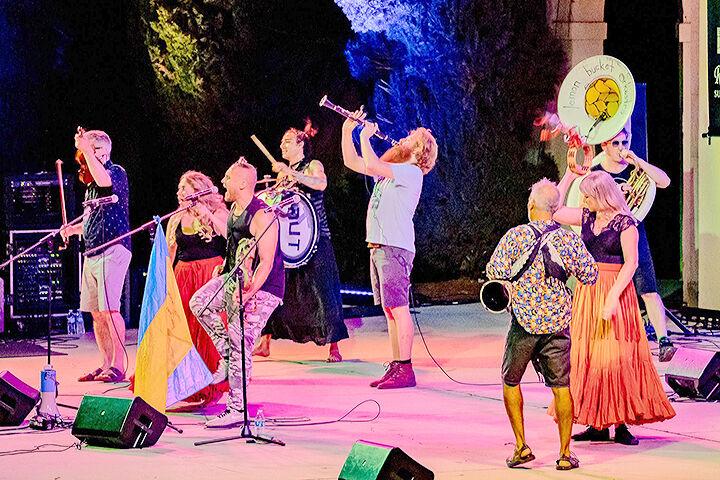 The low quiet rumble of the sousaphone gave no indication of what would follow, when suddenly the immersive experience of the Lemon Bucket Orkestra filled the Redlands Bowl. Once the band started moving, they did not stop. Violins, drums, a guitar and percussion kept a frantic heady beat, and just when listeners thought it couldn't go any faster, violinist and originator of the group, Mark Marczyk, kicked it up a notch.
Lemon Bucket Orkestra, a Toronto original, started as a busking group, eventually making enough to finance their first tour to the Balkans area. The name derives from a Ukrainian song in which two competing groups vie for more lemons in their bucket.
Following the near frenetic pace of the first few songs, the free-spirited musicians moved to a waltz before the strong percussion edged out the waltz and headed back into the Balkan "folk party punk" for which they are known.
Marczyk got the audience laughing when he asked for people to toss out their favorite Balkan or eastern European song, noting that he always gets someone calling out "Free Bird," the Lynyrd Skynyrd classic. In response, the band wrote their own song they called "Free Bird" mixing reggae, Spanish influence and imbued with Eastern European flair.
He also mentioned the band doesn't do sheet music and goes with the vibe of the audience and band, feeding off the reactions of the listeners. While all the lyrics were in Slavic languages, with a bit of Spanish, listeners didn't seem to mind. Rather than direct translations of what Redlanders were hearing, they gave a general overview of the songs; after having audience members raise their glasses, cups or water bottles, they broke into a song that would be considered a toast to health, happiness, love and peace.
Lauren Grecia heads to the bowl with people she works with every Friday night. She found it interesting to see cultures that we may be exposed to in movies and TV, but there's something different about hearing it live.
Katherine Pyne came to celebrate her birthday with her son and brother, and when the band heard, they serenaded her and another guest at the end of the evening with a song roughly translated as "Many Years," a song appropriate for birthdays, anniversaries or just well wishes.
While the band differed greatly from what the bowl has delivered in the past, listeners returned the energy that emanated from the stage. Jaash Singh, darbouka player, loved the venue and the vibe that could be felt throughout the evening.
Lemon Bucket Orkestra brought the best of all worlds to Redlands, delivering a fun, fast-paced cultural experience for all to enjoy.  
Sponsor: Performing Arts Global Exchange