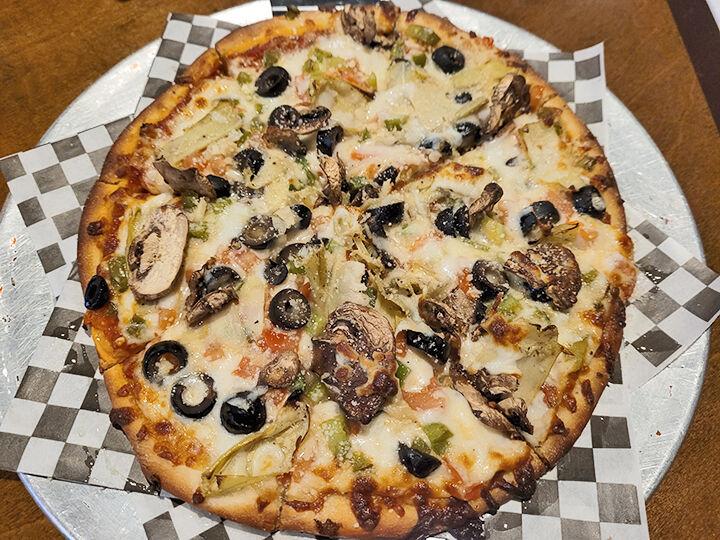 Jake's has been a fixture in Yucaipa for many years, and Jake still helms the kitchen, turning out an array of Italian favorites, distinctive sandwiches and a wide ranging selection of monster size burgers for your dining pleasure.
We began with corkscrew calamari. Do not try to open your wine with this! There are no tentacles, but the "corkscrew" twisted strips of squid are exceedingly tender, lightly dredged in a mild black pepper bread crumb mixture and deep fried. They are served with ranch and marinara dipping sauces.
Next came an authentic Italian wedding soup composed of mini meatballs, pastina (small pasta beads), slices of Italian sausage and soft non-chewy kale in a hearty, delicious broth.
From the sandwich section, we opted for the pesto aioli chicken club with a generous side of house salad. A sour pickle spear is anchored to each half of the sandwich with a toothpick. I couldn't discern much of the pesto flavor on the sandwich, so our server brought out a cup of the pesto aioli, which we promptly dipped the sandwich into, enjoying the garlicky basil flavors and aromas.
The day's biggest hit was the penne a la vodka, a dish that has been on the menu since the restaurant's inception. The portion was enormous, as was the flavor profile. Generous pieces of peppery sausage were mixed into the pasta and tossed in a creamy tomato based sauce flavored with oregano and basil, along with crumbled pieces of bacon.
When it came to pizza, we decided to take a break from meat and ordered their vegetarian version replete with black olives, onions, mushrooms, diced tomatoes, bell peppers and artichoke hearts topping a tangy red sauce. The crust was particularly noteworthy — pliable with just enough char. Pizzas come in two sizes: 8 inch and 14 inch.
I'd be remiss if I didn't mention their selection of 12 different burgers, all of which are 8 ounces. The Philly cheeseburger bears special mention. The 8-ounce Angus patty is topped with sautéed mushrooms and bell peppers, onion straws, a quarter pound of sliced steak and homemade cheese sauce.
Your dentist would have to temporarily unhinge your jaw for you to get your mouth around this behemoth!
Each burger comes with one side.
Their draft beer list selection is quite prodigious. I particularly liked the Mother Earth Cali Cream and the Firestone Walker Blood Orange Hefeweizen.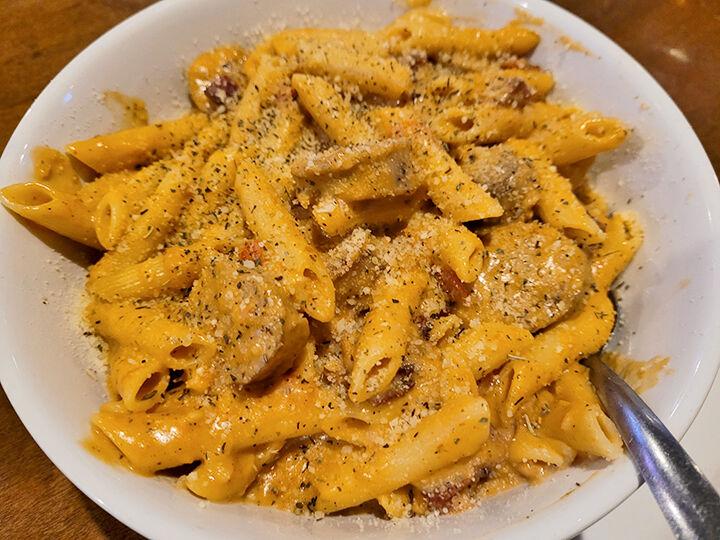 Finally, their water glass is nine inches tall and comes filled to the brim. It's the biggest one I've encountered!
If you arrive dehydrated or the food makes you thirsty, you certainly won't have to ask for a refill! Oh, and there's also a great selection of 1960s and '70s rock music playing in the background.
David Cohen is the former cohost of the PBS show "Table for Two."