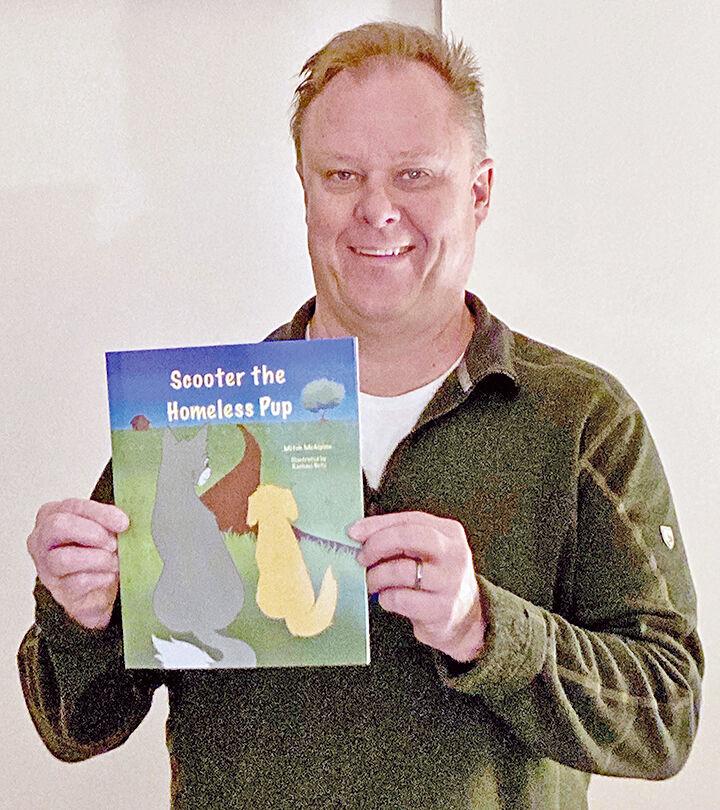 It's often said that when one door closes, another opens. When the struggling economy forced Mitch McAlpine to be furloughed from his position in medical sales, the door of his dreams presented itself in the form of children's literature.
McAlpine has completed and published his first children's book, a delightful romp entitled "Scooter the Homeless Pup."
The Beaumont resident's introductory press release describes it as, "A heartwarming story of love and courage in which Scooter the homeless puppy discovers that just because you are homeless doesn't mean you are hopeless. Adoption is beautiful!"
Debut local author McAlpine is gaining media attention having given a recent interview to the Record Gazette, the Redlands Community News' sister paper in the Banning-Beaumont area.
The book has found its way into the eager hands of a growing number of young readers in both Riverside and San Bernardino counties.
A recent review of the book says, "McAlpine has written a wonderful new book for young readers about the values of hope, responsibility, loyalty and love. The story will resonate with both them and their parents/caregivers and is enlightening." Another critique said, "I thought this book was perfect for my 5-year-old great grandson. The writing flows in rhyming four-line verse style, and the illustrations are so attractive and colorful. I purchased two extra to give as gifts!"
The story follows puppy Scooter (named after McAlpine's one-time pet) in his life on the street. He is rescued and raised by a homeless mother cat with five kittens, who teaches him how to survive the rigors of the street life, along with other important valuable lessons.
The rhyming style of the writing makes it an ideal book for a classroom read-aloud, as well as a great "Grandpa's lap-book."
McAlpine was met with much acclaim at the Yucaipa Winterfest when he set up a table for a book signing in front of Timeless Pages bookstore on California Street.
The next part of his writing plan is to get the book made available in hardcover, as well as a teacher resource guide to accompany it.
A February date will be scheduled for another book signing at the Frugal Frigate in Redlands after the hardcover version comes out.
"Scooter the Homeless Pup" is readily available on Amazon and soon at independent bookstores and at bookshop.org.