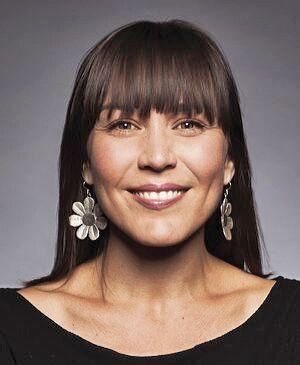 "Homecoming: Works," a display of fine art photography by Cara Romero, is being presented at the San Bernardino County Museum through Aug. 14. It opened on Thursday.
Romero is a contemporary fine art photographer and an enrolled citizen of the Chemehuevi Indian Tribe.
She was raised between contrasting settings: the rural Chemehuevi reservation in Mojave Desert and the urban sprawl of Houston, and now works out of her studio in New Mexico.
The exhibit embraces photography as Romero's tool to resist Eurocentric narratives and as a means for opening audiences' perspectives to the fascinating diversity of living Indigenous peoples.
Romero's identity informs her photography, a blend of fine art and editorial photography, shaped by years of study and a visceral approach to representing Indigenous and non-Indigenous cultural memory, collective history, and lived experiences from a Native American female perspective.
By staging theatrical compositions infused with dramatic color, Romero takes on the role of storyteller, using contemporary photography techniques to depict the modernity of native peoples, illuminating Indigenous worldviews and aspects supernaturalism in everyday life.
According to Romero, "When we as native people explore new artistic tools and techniques, such as photography, we indigenize those media.
"Our vision and intimate relationship to our communities are precisely what make native photographers the people best equipped to convey the allure, strength, and complexity of contemporary native life."
Museum Director Melissa Russo said, "Cara Romero's work provides a brilliant perspective on indigenous culture, the environment, justice, and modern society. As a female producing large-scale works, she establishes a fascinating variation on the genre of epic imagery, utilizing a dramatic up tilt in many of her compositions, but incorporating an unexpected intimacy and internal complexity in her subjects.
"The museum is delighted to present this remarkable show of her work, and share her talent in San Bernardino County where she was raised."