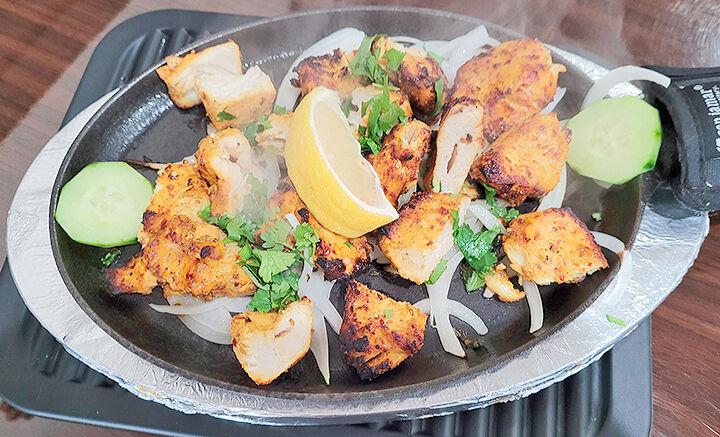 It has been ages since I've been to this temple of Pakistani fare still going strong in its 19th year under the helm of chef/owner Fizaan Named.
Pakistani cuisine is more meat centric than its neighbor India, where vegetarian dishes play a prominent role. Neither cuisine offers pork items and at Gul Naz, vegetarian items don't take a back seat to their meat-intensive counterparts.
Chiles play a prominent role in the food of Pakistan as both a flavor enhancer and a provider of spiciness. For me, I prefer a slow building heat that reaches its zenith after the complex flavors of the various spices have caressed the palate. For those unfamiliar with Pakistani fare, I suggest mild to medium heat levels to start.
The menu is prodigious with lamb, chicken and beef playing leading roles, as well as seafood including shrimp and fish. There's an assortment of biryanis (rice dishes) with your choice of meat or vegetables, with spices such as cumin, ginger, turmeric and garlic enhancing the flavor profiles.
We began with shami kabob, three patties of ground yellow lentils, beef, mint, cilantro and diced green chili. Each patty is glazed with egg whites and lightly fried, accompanied by a thin green chile cream sauce for dipping purposes.
Of course, we opted for a tandoori oven-cooked dish, Malai chicken tikka (boneless chunks of chicken breast quickly cooked on skewers in a clay oven after having been marinated in yogurt). The dish comes to the table sizzling hot, accompanied by sliced onions, cucumber slices and lemon wedges. The chicken was both succulent and exceptionally aromatic.
Do not miss any one of their lamb dishes, particularly achar gosht — cubes of lamb meat served in a splendid red/orange hued curry sauce). It's redolent with the aromas and flavors of fresh garlic, ginger and mixed pickled spices.
Layers of flavors unfold on the tongue, along with a slow building heat mid palate. Order some aloo naan — tandoori oven-cooked flatbread containing a thin layer of mashed potatoes to soak up every last drop of the highly addictive curry sauce.
Another spectacular dish is baingan bharta, a vegetarian item consisting of baked, creamy eggplant offering a distinct undercurrent of smokiness along with multiple layers of spice flavors such as cardamom, cinnamon, cumin and stir-fried garlic.
The creamy, complex mouth feel only adds to the explosion of complimentary flavors on the palate. Order some onion kulcha, a tandoori oven flatbread dotted with fresh chopped onions and cilantro to soak up every last drop of this eggplant masterpiece.
Our final item was the shrimp biryani, a complexly flavored rice dish topped with fresh cilantro, green bell peppers and fried onions. The plump, large shrimp offered a pleasing snap when you bit into them. This dish offers an array of flavors and a delicious ending to a meal that was quite memorable.
David Cohen is the former cohost of the PBS show "Table for Two."
Gul Naz Cuisine
Where: 1624 E. Washington St., Colton.
Hours: 11:30 a.m. to 8:30 p.m. Tuesday through Sunday.
Prices: Appetizers $6.99 to $12.99, soups and salads $2.99 to $12.99, entrees $11.99 to $18.99, tandoori cooked flatbreads $2.75 to $5.50.
Details: Vegan and vegetarian options offered. Catering available.
For more information: Visit gulnazcuisine.com or call (909) 370-0111.