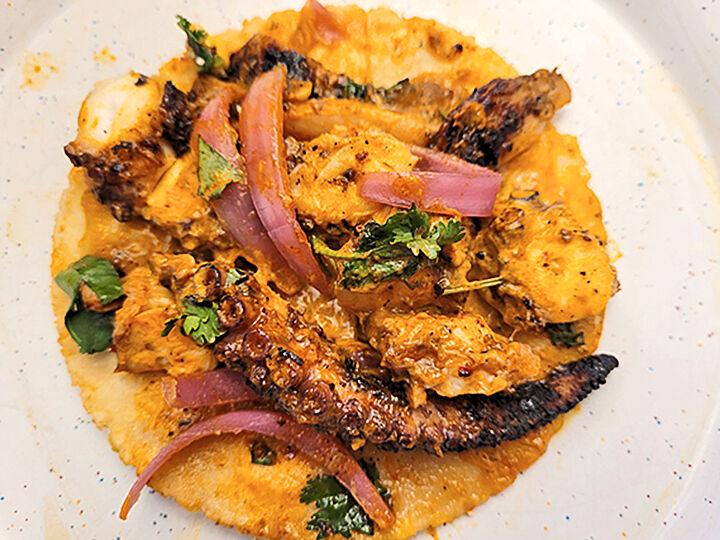 It has been a long time since anyone has stepped up to assume the mantle of the late lamented Casa Maya as one of the top Mexican restaurants in the Inland Empire. There is, however, an heir apparent in the presence of Freckles, at the former site of Ruben Ochoa's homage to Mexican Yucatan cuisine.
Where: 1839 Mentone Blvd., Mentone.Hours: 11 a.m. to 10 p.m. Wednesday through Saturday, 11 …
Open for less than a month, the menu is about 75% Mexican fare, and their selection of tacos is other worldly (reminiscent of Galaxy Tacos in La Jolla).
The habanero chile pepper plays a prominent role in their sauces as does the herb Hoja Santa and to a lesser extent, epazote. One of its most unique sauces is a blend or charred corn tortilla, habanero and chile de arbol. It's a blackish brown salsa which is excellent with their smoked brisket taco topped with pickled purple onions, avocado, aged cotija cheese and an over easy egg — a unique filling, but there's more to come.
The tinga taco consists of chipotle chile aioli, shredded chicken, roasted corn kernels, fried epazote and aged cotija cheese. The smoky heat of the chipotle lights up the taste buds.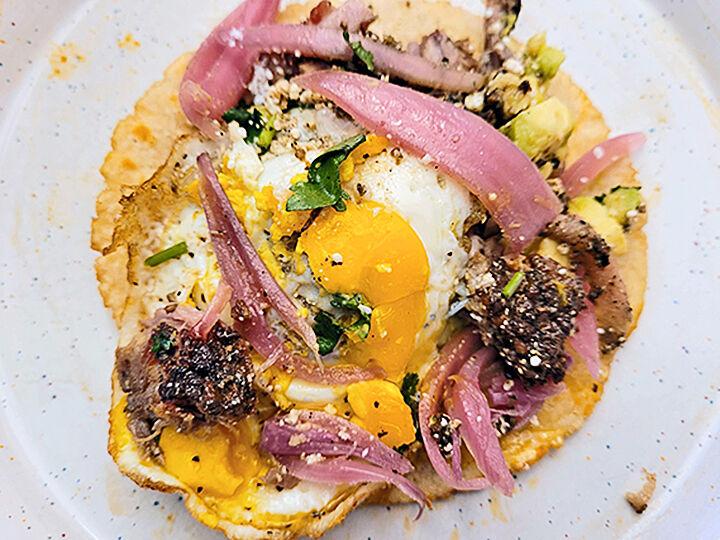 The pork pibil taco is another outstanding rendition. The pork is marinated in a black bean sauce along with the juice from bitter oranges and annatto seeds, which accounts for the burnt orange hue of the meat. Do watch out for the thinly sliced rings of the orange habanero scattered throughout the taco. They are fiery, with a persistent fruity heat that lingers on the palate for a minute or two. Think of them as "rings of fire" minus the lava!
As Monty Python was known to quip, "And now, for something completely different," the octopus zarandeado taco. Tender tentacles cut in various shapes were coated with a mango habanero glaze and topped with fried hoja santa, micro greens and the ever present pickled purple onions.
An enormous amount of octopus is stuffed in their 5-inch-wide lightly fried corn tortillas. Frankly, this is one of the most delicious tacos I've ever had the pleasure of devouring — unique, boldly flavored and a textural triumph. This was the best collection of tacos I've encountered anywhere in the Inland Empire, and they've only been open a short while.
The chef is from Veracruz, which is known for its seafood, but he obviously is also intimately familiar with other Mexican regional dishes.
His smoked brisket taco with the black salsa was a creative masterpiece that I've not seen anywhere else.
Ah, but there's more. Witness the barbacoa chicken and the al pastor pork belly entrees. In Mexico, barbacoa is usually made from the head of a goat or cow, though here in the US, you will find mainly shredded shoulder meat.
In Mexico, a pit is dug in the ground and the meat is wrapped with maguey leaves and cooked over hot coals for hours.
At Freckles, the meat is a half chicken which is first marinated and coated in a mild chile paste, then wrapped in banana leaves and slow cooked.
It's served with a green sauce along with Mexican dirty rice, which incorporates spices, diced meat, and vegetables. The chicken meat literally fell off the bones. Dip it into the green sauce, which has a bit of a sting, and devour it.
Al pastor, which means "grilled on a spit" after marinating, originated in and around Puebla and Mexico City. The fat from the pork belly is intentionally not completely rendered, resulting in a luscious mouth feel and a pleasing char on the meat's exterior.
The black salsa is a perfect accompaniment to the pork belly, cutting through its richness. Likewise, the accompanying charred pineapple strips acidity works similarly.
In summary, if you're in the mood for distinctive tacos and marinated, slow-cooked meats, your culinary ship has come in at Freckles in Mentone — deliciously unique Mexican fare.
David Cohen is the former cohost of the PBS show "Table for Two."