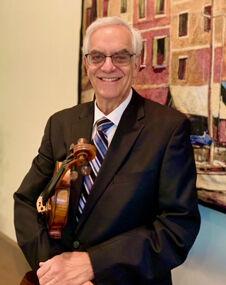 A solo violin performance featuring music from "Fiddler on the Roof," "Cinema Paradiso," "Schindler's List," and more by longtime Smiley Library favorite Paul Stein, a member of the Los Angeles Philharmonic for 36 years, Music by Johann Sebastian Bach, Aaron Copeland, John Williams, and other composers will be included at 6:30 p.m. Tuesday, May 10. A member of the Los Angeles Philharmonic for 36 years, Paul Stein has brought his musical experience into many educational and chamber music venues. He created the Chamber Music Express ensemble in 1985 to introduce classical music to audiences at schools and libraries.
Stein is the artistic director of the Classical Kaleidoscope chamber music series at the Arcadia Library, which is now in its 16th season. It has presented music from many lands, including China and Africa. He now performs regularly at the Agoura Hills Library. He was also the director of the chamber music series for five years at the Pasadena Jewish Temple and Center. He has performed the cycle of the ten Beethoven Violin and Piano Sonatas with Jocelyn Chang, and the cycle of Reger and Delius sonatas with Leo Marcus.
Stein has been a soloist with the Los Angeles Philharmonic, Glendale and Pasadena Community Orchestras, the Rio Hondo Symphony and the Crown City Symphony. He teaches violin and viola at his home studio. He has also been on the faculty at the University of La Verne, Pasadena City College and Glendale College.
His articles about the relationship between music and the mind have been featured in Strings Magazine, the American String Teacher and the California Music Journal. He regularly blogs on Violinist.com and some of his performances can be found on YouTube, at Paul Stein, violin.
He retired from the Philharmonic in 2017. He performs as soloist with orchestras and in libraries throughout California. He was one of the featured performers for the Los Angeles Public Library's "LA Made" concert series in 2018. Visit his web site at chambermusicexpress.com.