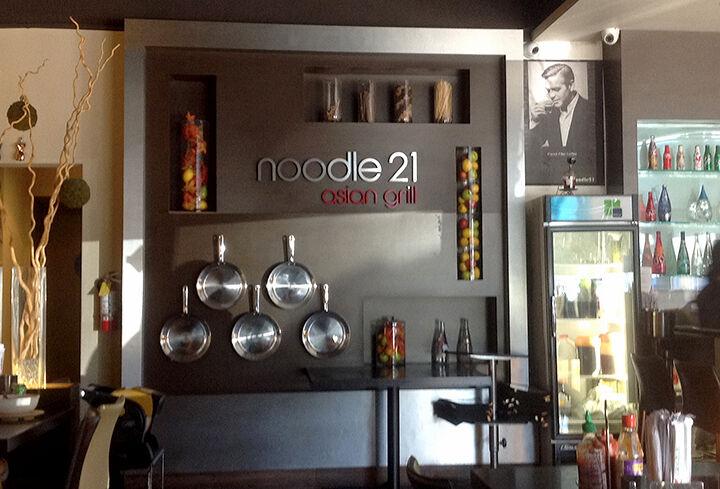 One of the things that has always impressed me about Vietnamese food is the healthiness of many of the ingredients — chock full of vegetables, relatively lean meats and assorted broths along with a plethora of noodles and assorted rice-based dishes.
For the most part, meats are considered more of a garnish than the primary ingredient. Spiciness is not a major component of the cuisine unless a restaurant specializes in dishes from the ancient royal capital city of Hué in central Vietnam.
Nonetheless Sriracha and a jalapeño-laced red sauce are available tableside to amp up the heat level.
We began with seafood pho, a chicken broth-based amalgam of assorted seafood including squid, shrimp, imitation crab meat, spongy fish balls and sliced chicken all topped with roasted red onions, garlic, chopped green onions and cilantro.
Why not use real shredded crab, instead of the mock version? The broth was rather bland, but the soup is accompanied by a plate of garnishes including mint leaves, sliced jalapeño and lime wedges, which when added, help to liven up the dish.
More intriguing were the charbroiled shrimp cake spring rolls, full of a variety of vegetables and wrapped in translucent rice paper. Dip the roll in the accompanying dish of hoisin sauce before devouring.
Another appetizer worth considering are the tamarind wings. Plump, deep-fried mini drum sticks were coated in a sweetly pungent tamarind sauce topped with sliced green onions. Messy, and you'll need a lot of willpower not to lick the sauce off your fingers!
The next two dishes have their origins in Hué. The first was a rich beef stew accompanied by a French roll.
Tender cubes of steak and cooked red carrots were afloat in a rather thin dark brown broth that was surprisingly lacking in flavor.
A few squirts of Sriracha into the bowl enhanced the flavor profile while nicely cutting through the richness of the meat.
The other dish was shaken beef. Its name derives from the way the pan is shaken during the cooking process to coat the pieces of exceedingly tender filet mignon with the marinade/sauce, composed of soy sauce, fish sauce, oyster sauce and coconut sugar.
This sterling dish is accompanied by lettuce, tomato and cucumber slices and vinegar marinated onions. It was the best dish we sampled.
Finally, we tried the charbroiled pork with vermicelli noodles served cold along with shredded carrots and zucchini, bean sprouts and crushed peanuts along with a hoisin based dipping sauce.
This dish offered multiple textural contrasts and flavors along with excellent visuals — an excellent rendition.
The restaurant also offers assorted bahn mi (Vietnamese sandwiches) and a large array of beef pho (noodle soups). Their jasmine rice preparations are also quite unique, as the rice is stir fried with tomato paste, roasted garlic and golden butter.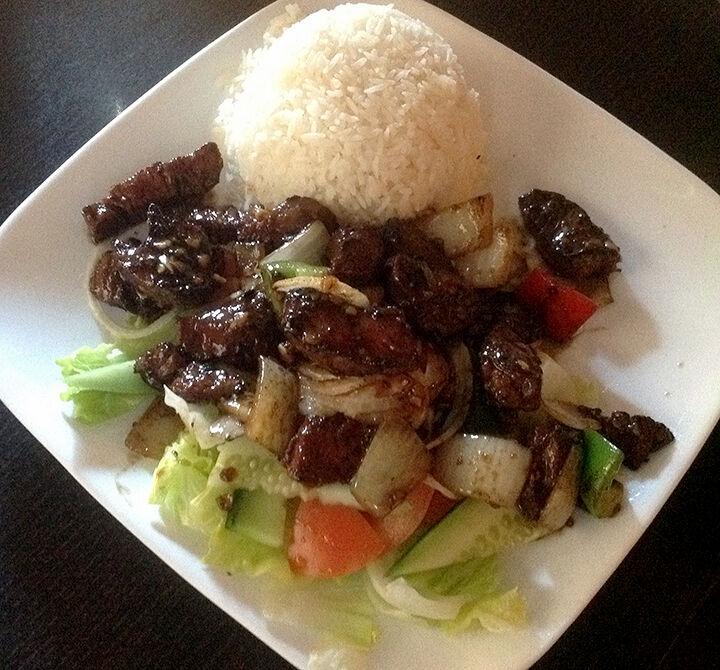 Noodle 21 Asian Grill
Where: 10040 Alabama St., Redlands
Hours: 11 a.m. to 9 p.m. daily
Price range: Appetizers $8.95. Soups $10.95 to $11.95. Rice & Noodle dishes $12.95 to $13.95. Most major credit cars accepted.
Features: Outdoor seating, kid friendly, take-out available.
For more information: Call (909) 798-1888.