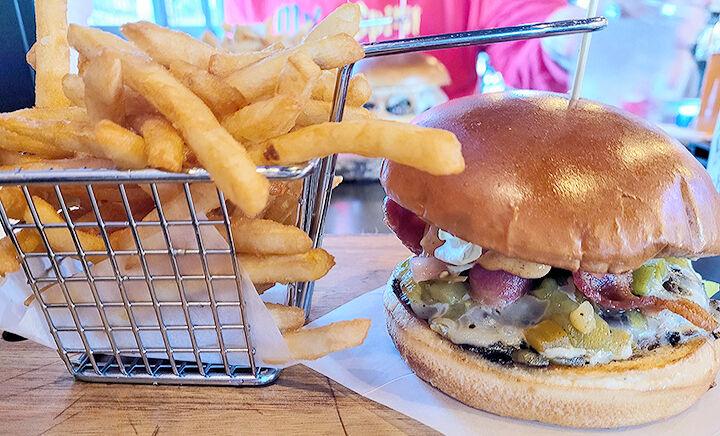 This is a new establishment on the far end of Cherry Valley Boulevard in The Marketplace at Calimesa, offering an array of beer, both bottled and on draught, that pair exceedingly well with their assortment of burgers and shareables.
While you're chowing down, a constant stream of music from the 1960s and '70s plays in the background, courtesy of such legendary groups as Deep Purple, the Rolling Stones, Led Zeppelin, the Who, Queen and the Doobie Brothers. Local bands play there regularly on the weekends.
Now, you might think that the food is just a vehicle to push alcoholic beverages from their full bar, but you'd be incorrect. The food easily stands on its own, be it sides, appetizers or the first-class burgers. Take the sides for example — particularly the Brussels sprouts blended with bacon and tossed in a mango chipotle sauce, which is sweet and spicy with smoky undertones. The sprouts come out blackened but not burnt. This enormous side is big enough to feed four!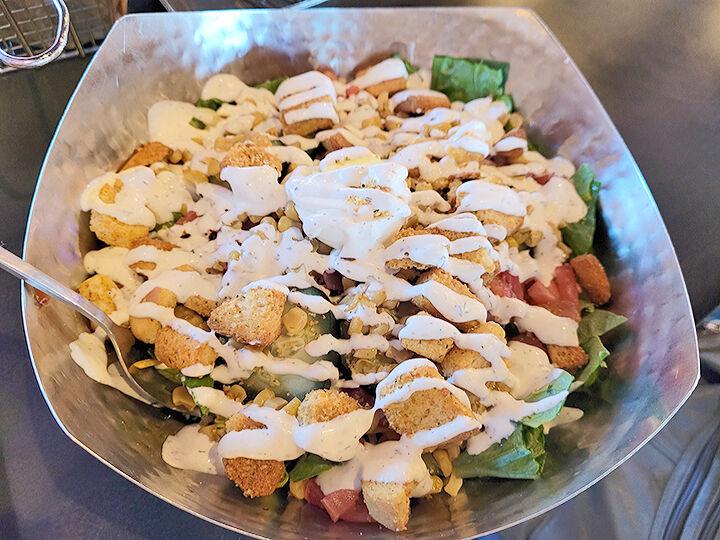 From the appetizer section comes chicken wings, either bone in or deboned. We opted for the deboned version and received 15 deep-fried large round nuggets of breast meat in a spicy Buffalo sauce. You have a choice of sauces that also include homemade ranch and bourbon bleu cheese. There's also a spicy artichoke corn dip that incorporates roasted red bell peppers, green chilies and jalapeños, accompanied by tri-color tortilla chips.
There's a whole section of the menu devoted to "amped up salads," from which we opted for the Farmers Market version. This salad consisted of an enormous mound of greenery topped with jack cheese, tomatoes, cucumber slices, roasted corn kernels, red onions and egg croutons all tossed with ranch dressing. Like the Brussels sprouts, the portion was gargantuan and could easily be shared by four people.
Where: 1040 Cherry Valley Blvd., CalimesaHours: 11 a.m. to 9 p.m. Sunday through Monday, 11 …
Now, let's get to the meat of the menu. All burgers consist of a blend of short rib meat, brisket and Angus ground chuck. Two of the burger selections immediately caught our attention. The Californication incorporates pepper jack cheese, fire roasted green chilies, applewood smoked bacon, mashed avocado, lettuce and tomato, and is drizzled with a spicy chipotle aioli. This burger nicely lights up your palate without incinerating your taste buds.
The Eye of the Tiger burger is quite distinctive. The Angus patty is topped with a mini Philly cheese-steak topped with provolone cheese, grilled onions and roasted peppers, drizzled with mayo, Fire Rock sauce and pepper jack beer cheese sauce. The mayo doesn't add anything, but the other condiments work exceedingly well. All burgers come with good crispy fries.
I ordered the Purple Haze raspberry lager and my wife tried the Cream Ale, both on draught, which were perfect accompaniments to the boldly flavored food.
David Cohen is the former cohost of the PBS show "Table for Two."