Year after year, Redlands becomes more recognizable for their dedication to the arts. The Redlands Festival of the Arts has taken place each year since 2013.
"One of the visions was to make Redlands a cultural center for the Inland Empire," said festival president Lynn Whitmer, of the festival that attracts thousands of visitors to Redlands.
Smiley Park hosts the booths that will display artwork from nearly 60 competing artists from all across the country. Artists apply to participate and compete in the juried art show.
"The participants are by-and-large working professional artists," said Whitmer.
Participants submit applications in advance and the chosen compete for $6,000 in award prizes.
There are awards for 2D and 3D art awarded to the best in show, first, second and third places.
"The festival is big on promoting art education for children," said Whitmer.
High school and middle school students have the opportunity to participate in a live chalk-art competition in the Youth Art Expo. Also, creative activities will be held for children.
Another aspect of the competition is the grants that art organizations and institutions apply for and are awarded to develop and exhibit the works of their members or students.
What began as an initiative to present fine art to the community and opportunity to young artists has grown into a large family-friendly art festival that includes two stages for musical entertainment and a food and beer and wine garden.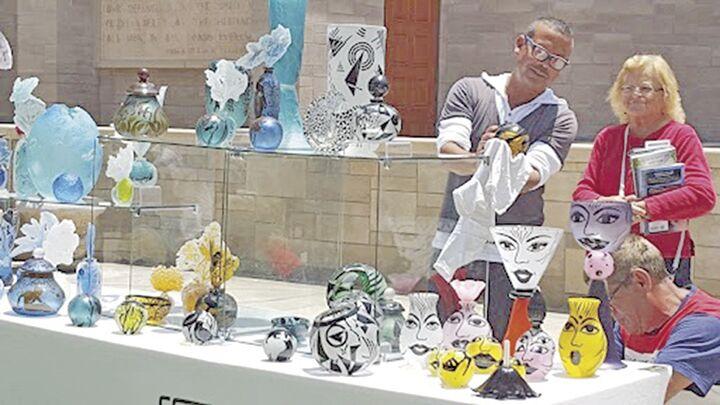 The 125th anniversary of the city of Redlands provided the impetus to create the festival of visual arts 11 years ago.
The president believes the festival brings art to life before the community.
Meeting the artist and buying from them after hearing their stories changes the experience, the festival president continued, "Once you buy a piece of original art, you will never buy a print again."
Every year attendance has increased and the goal for this year is to surpass the average of 7,000 attendees over two days.
"We are hoping that we cross 10,000 patrons," said Whitmer.
The festival is free to attend. Funds are raised from the rental of booths.
The Redlands Festival of Arts does not take a percentage of the art sold.